The Cloud 66 platform controls thousands of servers across 78 data centres, across 8 public cloud providers: AWS, Rackspace, Google Cloud, Microsoft Azure, DigitalOcean, Linode, Cloud A and Vexxhost.
This can be challenging sometimes, but there is a huge advantage in size: you get to see patterns across servers in different data centres. This is particularly useful when we spot issues with servers in a particular data centre.
Since starting Cloud 66, we began collecting and aggregating metrics from every server we deploy and manage. This information has become part of an internal dashboard that we use to make our support more efficient. Having access to a real-time network of public cloud health status, allows us to help our customers identify and isolate issues at the data centre level, before spending too much time focusing on their application or servers.
Today we're excited to open our internal system to the public: Please meet Cloud 66 Birdseye.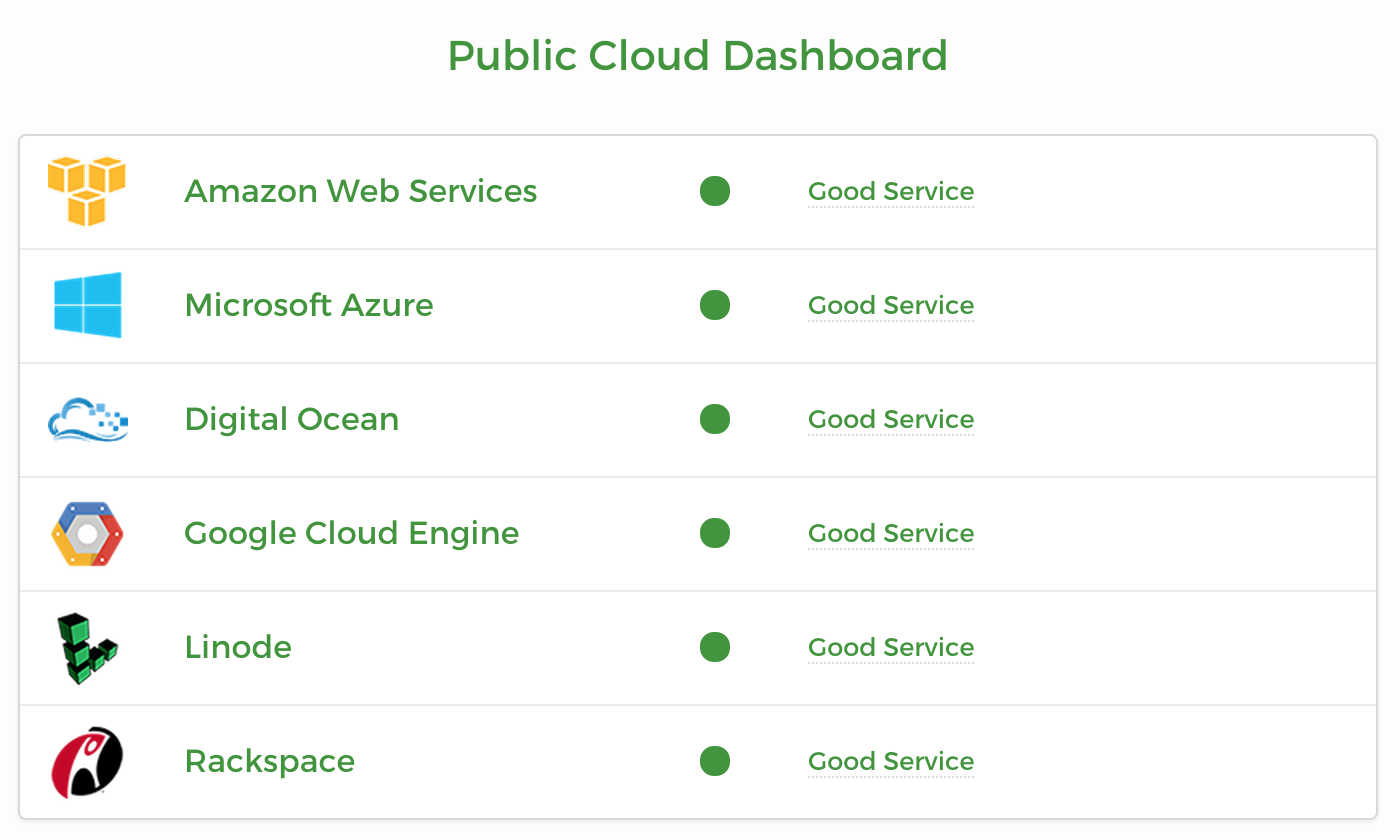 Where does the data come from?
Birdseye gets its data from a variety of sources: vendor official status updates, anonymised and aggregated health signals from all servers deployed and managed by Cloud 66.
How about historical data?
We keep history of all incidents on all cloud providers indefinitely. This too is available through Birdseye. Our intention is to use the information on the number of incidents, cloud vendor response, resolution times and incident types to produce regular reports on public cloud quality in the future.
How accurate is the data?
Although the data is automatically collected and aggregated in real-time, all publicly available incident reports are manually checked by us for accuracy. This is to ensure there are no false alarms reported.
Why not all cloud providers available?
We're working on adding all of the cloud providers mentioned above to Birdseye in the future.
Is there an API?
Yes! You can access all of this data through the Cloud 66 Birdseye API for your internal and externally available systems. Use of this API is free. All we ask is that you reference a credit back to Cloud 66 Birdseye as the source of data.
How can I use the data?
You can use this data to integrate it with your monitoring system, or build dashboard widgets if desired. Let us know about the cool projects you're running with the use of the Birdseye API, and we'll be happy to promote them.
Can I report incidents?
Thank you for your offer of help and support. You can report incidents to birdseye@cloud66.com