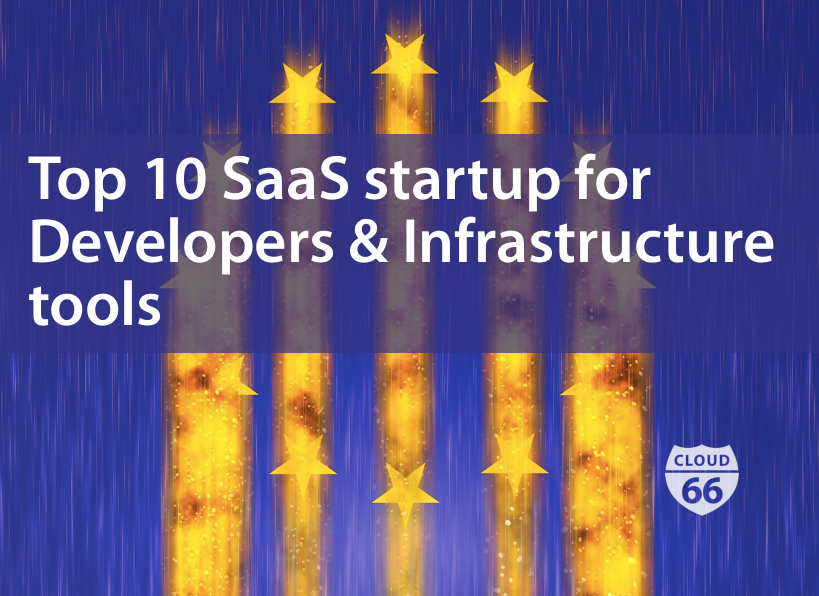 Last week, Philippe Botteri of Accel Partners – one of the leading global VC firms specializing in early phase and growth stage startups, published the 'Accel EuroScape' hot list.
Taking a comprehensive look at over 1,000 startups operating across 12 countries, they published a final list of the 100 most promising European SaaS companies. We were thrilled to be named alongside Redis Labs, Algolia and JFrog, ranked as one of the top 10 startups catering for a Developer/Infrastructure specific audience.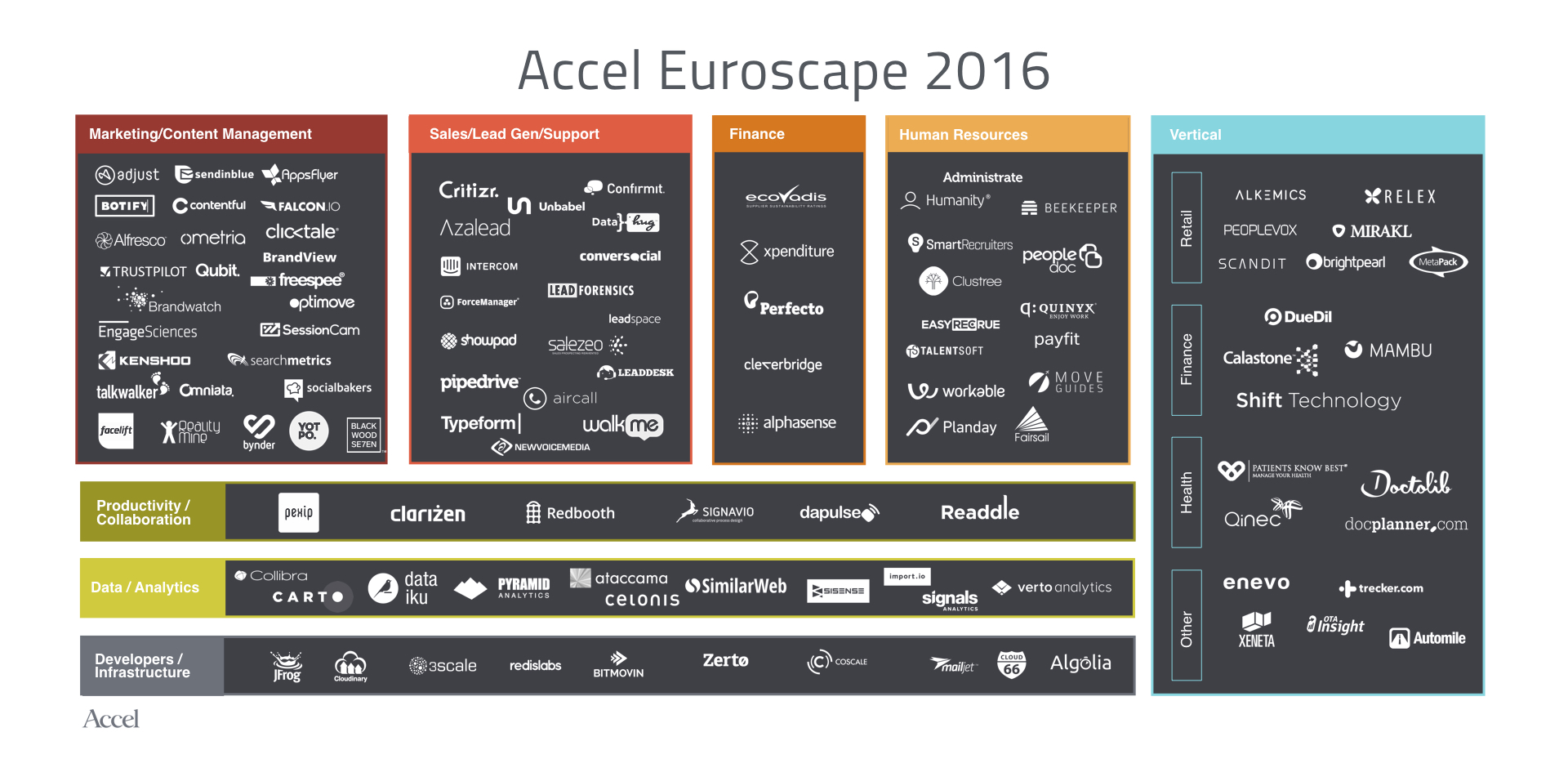 Applying their own ranking methodology, Accel Partners compared startups against a systematic set of attributes including market position, product differentiation, revenue potential, adoption and the strength of the management team. The resulting shortlist puts us in great company, and I thought I'd profile each of the featured startups to share some love and help raise the awareness of other awesome developer tools:
3scale
Recently acquired by RedHat, 3scale provides an API management platform within a self-service model for developers. Offering a hybrid cloud-based API management platform, 3scale separates the cloud management layer from the API gateway. The delivery components that carry API traffic can be based anywhere, and traffic doesn't need to flow through the 3scale layer, providing developers with flexibility, performance and scale.
Algolia
Algolia provides developers with a Hosted Search API that delivers instant and relevant results from the first keystroke. Billed as an entirely different search algorithm and experience, it helps developers give end users direct and intuitive access to what they want to find, with exact prefix matching for "as you type" searching, typo-tolerance with smart result highlighting, and a ranking formula that's easy to configure and powerful when needing to combine textual relevance and business objective.
Bitmovin
Developed by developers for developers, Bitmovin offers video infrastructure for the web to avoid the pitfalls of latency, startup and buffering delays and poor image quality. Developers are enabled with a video encoding API to allow complete customization of DASH and HLS encoding workflows, alongside a HTML5 adaptive player that works without the need of any plugins. The team lay claim to having the fastest encoder on the market (100x realtime) and are a pioneer in new technologies such as 360° and VR.
Cloudinary
Providing a cloud-based image and video management solution for web developers, Cloudinary has simple integration tools to get immediate access to an extensive library of media assets. Developers can securely upload images or any other file types at any scale, from any source, with a private hosting service that's safe and secure thanks to automatic backup and historical version tracking. Optimized imagery is delivered seamlessly through a global CDN to any device type, based in any location.
CoScale
CoScale delivers full stack performance monitoring tools, optimized for large production and container environments, powered for anomaly detection. Developers and ops teams are given a robust monitoring platform, to keep on top of the thousands of metrics generated per second by complex web-scale applications and dynamic microservice environments. Optimized for complex production workloads, CoScale offers lightweight, non-instrusive server and application instrumentation tools and streaming analytics to handle large ingestions of data.
JFrog
Developers rely on JFrog's infrastructure for software management and distribution, which they support with a suite of complementary products. Artifactory is a universal artefact repository manager, supporting software packets in any language or technology that works in cohorts with Bintray as a fully automated, continuous delivery pipeline for software development. Their Mission Control product offers a centralized control, management and monitoring console for artifact assets, while Xray performs universal component analysis for insight into software architecture.
Mailjet
An interesting addition among all the developer tools, Mailjet is an all-in-one email service platform that takes away the pain of building and distributing html-ready web templates for customer outreach. From contact list management, templatized pre-build tools and audience segmentation capabilities, there's a lot of features and functionality packed into the Mailjet proposition. Automation based on account notifications and shipping confirmations can be achieved with the REST API and SEND API capability for timely, context-based communications.
Redis Labs
Redis Labs is the home of Redis – the open source database with in-memory data structures, which are used as building blocks by developers to save coding time and effort. Supporting datasets of any size, Redis provides flexible, schema-less design allowing you to easily scale your database as if it was a simple key / value data store. Redis Labs has also developed an additional technology layer to provide enhanced deployment architecture for enteprises, while still supporting the open source API.
Zerto
Guaranteeing resilience to withstand any IT infrastructure outage, disaster or technology change, Zerto provides disaster recovery software for virtualized and cloud-based infrastructure. Protecting engineering teams from unplanned outages and interruptions, Zerto's hypervisor-based replication technology for V-sphere and Hyper-V environments delivers complete protection for all virtualized applications.
As evidenced in the research, while Europe continues to produce SaaS startup success stories with the likes of SocialBakers, Intercom, Brandwatch and TrustPilot regularly lauded within tech circles, there's still a huge appetite to champion the creation of another Skype, Klarna, TransferWise or Spotify from this side of the pond.
VC funds and institutional investors are cottoning on to the potential European startups have to offer, but there's still a huge gap in funding and growing pains that need to be overcome by European startups wanting to compete head to head with their North American counterparts for a piece of the funding pie.
Do one of the SaaS startups listed in the Top 10 for developer/infrastructure tools have the potential to be the next heavy hitter? Only time will tell… but we definitely know who our money's on!