This case study features Positive Energy Ltd , a project that simplifies renewable energy finance. It showcases how Positive Energy uses Blockchain, Cloud 66 Kubernetes solutions, and Google Cloud to achieve unbeatable performance.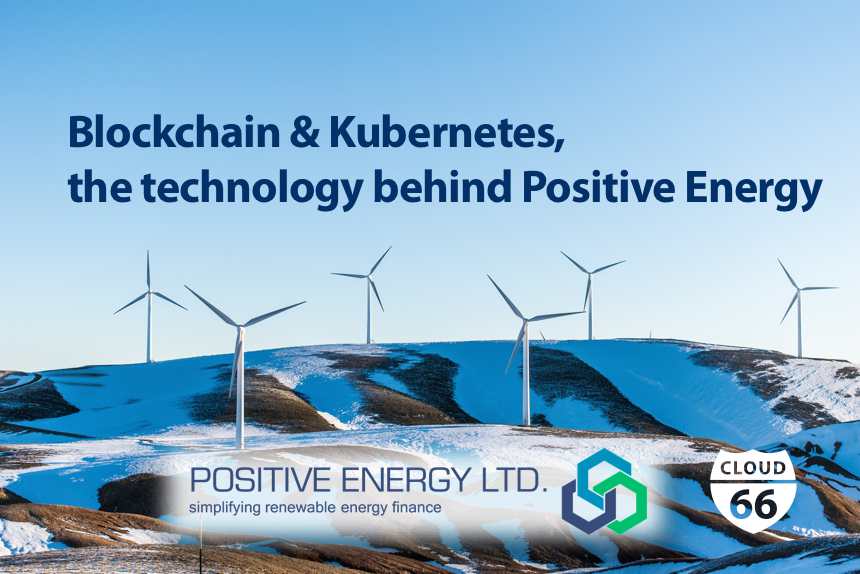 Positive Energy Ltd Background
Nicolas Payen and Vincent Bakker founded Positive Energy Ltd in 2017. Positive Energy helps to source, fund, and trade clean energy assets in a smarter way, with the world's most powerful renewable energy finance platform.
Positive Energy Products:
Matchmaking - A digital discovery tool that connects investors with the projects that seek investments.
Due Diligence Collaboration - a tool that provides an easy way for investors and project owners to work efficiently together by offering traceability and audit trails, access to third-party audit companies management, financial model, virtual data room, KYC and AML.
360 Asset Management - this tool helps investors and projects owners to monitor asset and offers technical, operational, legal, finance and taxes support.
Portfolio management - The ability to aggregate projects into the portfolio. You can then easily finance and report at the portfolio level instead of the project level. This is especially important for small projects like solar rooftops.
How it works: Positive Energy streamlines the process for matching investors with the seed-level companies that are seeking investment, and since it is a digital platform it makes financing renewable energy projects cheaper, easier and faster.
Get started with Positive Energy: To get started you can either submit your project to the platform or register as an investor.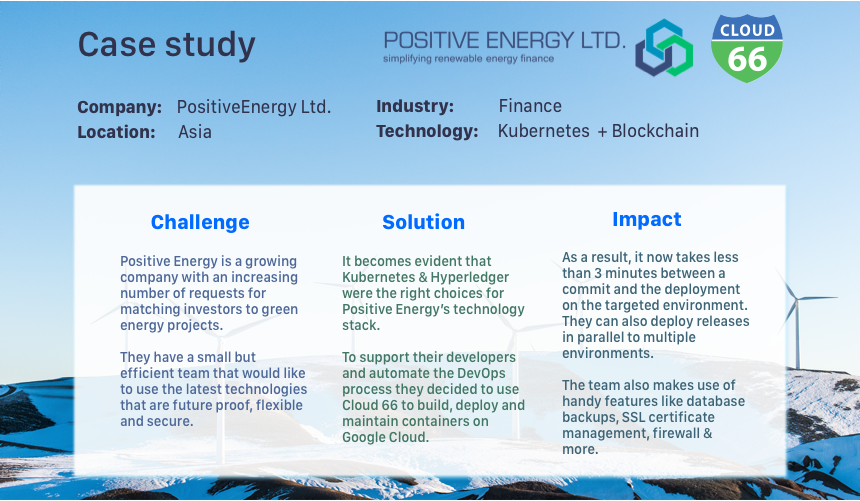 Nicolas, can you give us an overview of your Kubernetes infrastructure set up?
We are a global technology company servicing institutional investors. As a consequence, we wanted to use state-of-the-art architecture from day one. We defined 5 key criteria to select our stack. These criteria are:
Flexibility : We are an early stage start-up so we want to keep our options open as long as possible. We don't want the technology to become a roadblock to the business.
Openness : We value open-source technologies and the work done by the developer communities around them.
Automation : Every dollar we spend has to quickly create value for our customers and our organization. So DevOps principles are at the core of our engineering work.
Future proof : We want to help society to build energy infrastructure for a carbon-free future. This requires an IT infrastructure that adapts to future needs.
Security : We operate in the financial sector and we know the importance of cybersecurity in this context. It's vital that we protect our customers' data.
Rapidly it became evident that Cloud Native technology like Kubernetes and Linux Foundation project Hyperledger, were the right choices for us.
In your experience, how easy or difficult is it to use containers in production?
In fact, it was really easy for us. We just set up the containers once, and then we could almost forget about them. Our container infrastructure runs on Google Cloud and Cloud 66, the integration works very well.
Currently, we run 4 different environments: development, QA, staging, and production. Also, it is reassuring to know that with Cloud 66 at any time we could shift to another cloud provider if the business asked for it.
Kubernetes! Why Cloud 66 to take care of your containerization?
Cloud 66 is an easy way to set up Continuous Integration and Deployment (CI/CD). It takes care of building images, generating and modifying configuration files, setting up policies and deploying anywhere without worrying about different cluster setups.
As a result, it takes us less than 3 minutes between a commit in our git account and the deployment on the targeted environment. We could even deploy our release(s) in parallel to multiple environments. Also, it's very handy to set up and use features like database backup, SSL certificate, firewall options and so on.
This allows our engineering process to be very 'liquid'. This is perfect for a start-up like ours.
How does Cloud 66 Kubernetes support the Positive Energy engineering team?
Today we have a small but efficient team composed of 3 full-stack engineers, a technical lead, a QA engineer, and a project lead. Cloud 66 allows our developers to maintain a lot of the infrastructure themselves, embrace the DevOps culture and deploy on a fast cycle. They are all fluent with Kubernetes, and the Cloud 66 tools offer ease, flexibility, and convenience to them. On rare occasions, they will seek the support of Cloud 66 team mainly by email. So far, this set-up has been working fine for us.
Lastly, what are your future plans? Is there anything else that you would like to add?
2019 was indeed a very important year for Positive Energy Ltd with the launch of our digital platform on the market. After almost 17 months of design iterations and development, we were very excited to put it in the hands of our first strategic customers. This was the beginning of a long journey.
Since our launch in June 2019, we saw clear traction for our services.
We have now 1600 professional users and 590 companies registered. Some of our customers are established companies with GW of assets behind them.
We have currently more than 40 renewable energy investment opportunities live on our platform. These projects are located in more than 15 different countries on the 5 continents and represent a total call for finance of almost a billion-dollar. Our sales pipeline is larger than 4B$+. But we are unable to address it due to our limited resources. Only 4 people sales team!
In 12 months, we opened more than 260 deal rooms. It shows how efficient we are to matchmake investors and developers.
In 2020, we secure our first revenues regardless of Covid19. We already facilitated the financing of nearly 75 Mln USD of projects. We even saw increased traction during this crisis as most of the business shift from traditional offline to online activities.
We do have few competitors in Europe/US but we are the only player active in Asia, the largest market. So we are now the largest player globally.
It's a great pleasure to work with the awesome folks at Positive Energy Ltd. Thank you, Nicolas, for finding the time to chat with us about Positive Energy Infrastructure. It's always fantastic to discover all the unique ways in which our customers are using Cloud 66.