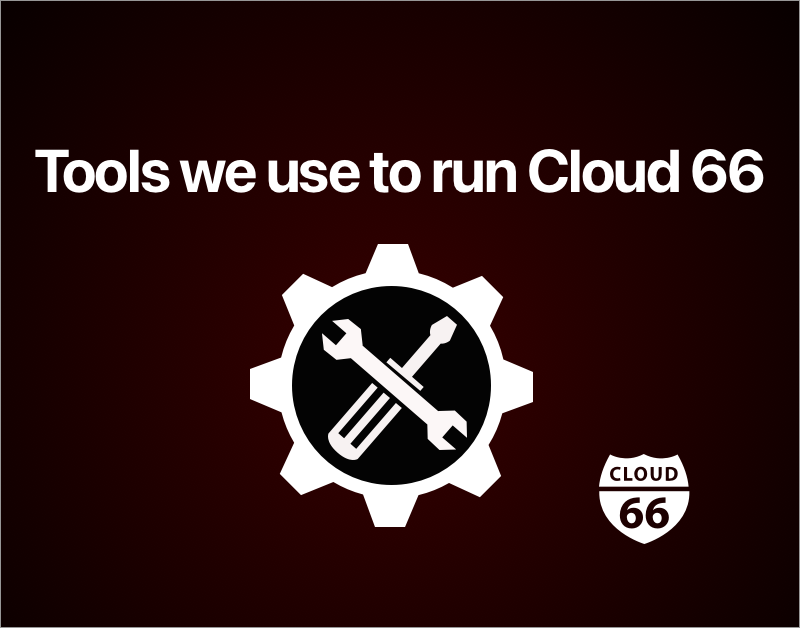 Running a software startup takes a lot more than just writing code. There is admin, legal, payroll, insurance and pensions, offices, payments and much much more to take care of every day. Like all businesses, we use a lot of different tools to run things more efficiently here at Cloud 66 and the curation of these tools has been the result of trial and error, recommendations, doing and redoing of tasks and projects.
In this post, I would like to share the list of what we use to run Cloud 66 with you. May you find our experience useful in running your own business! Here it goes:
Business Tools
G Suite
Like many other companies we use G Suite for our email and calendar, but unlike many we don't use Google Docs and Sheets as much. Google Docs was replaced by Dropbox Paper (see below) and Sheets is limited to the times we need to share a spreadsheet. Over the time we found not all of our contacts use Google Sheets so we ended up splitting our spreadsheets into Microsoft Excel in Dropbox and Google Sheets. This meant things were everywhere and we finally settled on using Dropbox as the means for sharing files internally and externally and therefore dropped Google Docs and Sheets from the list.
Dropbox is our file storage system. We use Dropbox Business as it gives us good Mac integration, offline use and version history for all files.
We started using Dropbox Paper from its early days and have been moving more and more into it. As of the time of writing this post, Paper acts as our medium for blog post drafts, product and technical specs, meeting agenda and minutes and the odd place to share ideas within the team.
Pingboard is our company org chart and shared time off / remote calendar keeper. It integrates well with GSuite and Slack so we know when someone is remote, on a business trip or on vacation.
1Password Business holds our account information.
Stripe is our payment processor.
We use Workable to manage our hiring process. It takes care of job specs, pushing job ads out and manages the hiring process well. I think it's a bit expensive for what it does so we might change it soon.
Hotjar helps us understand our users and how they use the product. It's a valuable tool to help us find usability issues and improve the product by observing how our customers interact with our products.
Everyone in the office can place orders for snacks or office equipment on Amazon Business. It lets us buy things online for the office without sharing the company credit card, approve purchases above a certain limit and assign preferred vendors on Amazon as well as download invoices for our accounts.
Easiest way to keep track of travel and odd expenses, with integration into Xero (see below) our accounting system.
Xero takes care of everything we need for our accounting in the UK and the US. They also run our UK payroll. (We use Gusto in the US)
Gusto is our payroll provider in the US.
We use Calendly to help with finding free slots in our calendars. It's an OK tool if you want external parties find some free time in your calendar without sharing the calendar itself. It however leaves a lot to be desired. While it seems many people use it, it doesn't recognize the fact that both parties are using Calendly which can automate finding a time. It also doesn't support timezones very well: there is only 1 timezone and that's one you're on right now. So if you need to fine time for a meeting in future when you'll be in a different timezone, you're out of luck.
We don't have an "official" email app so different people use different clients ranging from native to Gmail web UI. Until recently I was using Spark which I still like very much. Spark shines when you use it on Mac and iOS since it shares the accounts automatically so there is no need for double setup. It's also very good at sending notifications only for important emails. However, recently they added a new feature which lets people to "chat" around an email within Spark as long as all parties use Spark and that set me off to look for another email client. Having yet another chat client outside Slack just adds to the channels of information I'd have to pay attention to and I will lose if I stop using Spark or am on a shared computer and want to use Gmail web UI. I have my issues with chat and Slack regardless which I will leave to another time!
Recently I switched to Superhuman which is great for email power users on desktop but still lacks unified inbox and a great iOS experience.
Fantascital is a great calendar app for iOS and Mac. I've been using it for a long time now and can't really switch to anything else. They UI is clean and customizable enough for me with multiple personal and business calendars. The only issue I can pick with Fantastical is their integration with email clients. Copying an invitees email address can be tricky sometimes which causes trouble if you want to let people know you're running late!
My personal and professional to do list application on Mac and iOS is Things 3. I like the clean and minimal design but I really wish they had integration with Alexa like Todoist and could parse natural language in the to do item itself (natural language is supported in the due date field).
Organizing travels for a company can be tricky: finding flight for everyone, hotels and making sure all travel document details are there and are up to date. We looked at a couple of solutions for this and settled on Travel Perk. TripActions was another solution but we found it clunky, not as polished and lacking features. Also the onboarding was manual and they take a very salesy approach to onboarding with sales calls for everything which is off putting for small companies.
Travel Perk lets our employees book their travels within company policy and book them with the company credit card without too much hassle.
Perkbox is our employee perks portal. They have a good range of perks in the UK when most of our people are based including gym discounts, cinema tickets and free coffee!
Our US employees 401k is run by Guideline which has a good onboarding experience, works for our size and integrates well with Gusto, our US payroll provider.
[Slack]
Like many others we use Slack for internal communication and Slack shared channels to communicate with some of our customers. Slack is a great tool for real-time communication but a terrible one if you think about its effect on organizational learning. Using Slack reduces serendipitous offline conversations, causes constant interruptions and distractions and buries useful information among long and hard to search threads. But the biggest damage Slack causes is that it encourages not-thinking. Writing long-ish pieces makes you think. Clarity of writing is a sign of clarity of thoughts and Slack discourages both of those. Personally I am reducing my use of Slack and we're putting in place different measures to make sure it's used what it's best for and doesn't become the main communication channel within the company.
Google Hangouts
We used to use Zoom and it was very good but Zoom room was very expensive so we switched to Google Meet / Hangout / whatever they call it now. It's not perfect and has a lot of issues but does the job reasonably well for free.
We recently started experimenting with Airtable. It's a great product but I'm not convinced it's the best way to collaborate or collect information. Airtable is kind of like a spreadsheet, but without the full power of one and is kind of like a table but has way too many features compared to a simple table in a document, so I'm not sure. This means it can't really replace spreadsheets for us and it's not going to work like Paper or Google Sheets either so it becomes yet another place to keep information across a small organization which is not good. If there is any comparison, probably Notion is a better alternative we're also trying out.
Notion seems to strike a good place between Paper and Airtable and some other tools. The UI is very good and it works offline which works well for people who travel a lot. However it's a closed environment which makes it risky to move all of your company knowledge base into before you're fully sure of the business behind it. I am trying Notion in small portions and limited scope as a potential replacement for Dropbox Paper which has become a pain to use recently.
Github
We use Github as our primary source code repository and issue tracker for our engineering team. The new Issue Transfer feature (which is in beta) is a great way to let the product team also use Github for tracking product tickets as well and then move them over to the right engineering repository. However there are still issues around using Github Issues for product development.
We are big fans of Jetbrains, the company behind RubyMine and GoLand. As Ruby and Go are the 2 primary used languages in the company, we find a good IDE a very useful tool. We also use VS Code but the quality of the plugins for different languages is inconsistent.
Krypt is a great tool that adds security layers on top of SSH and 2FA signin for us. In a nutshell, Krypt is a mobile app with a desktop agent that keeps your private SSH keys inside of your phone so you'd need your phone to use SSH which acts like a 2FA system for SSH. They also have a business plan which lets us control who gets access to what which is essential in our line of business!
Fleetsmith is our system of choice when it comes to configuring and maintaining our fleet of Mac laptops used by everyone here at Cloud 66. It lets us provision everything that's needed to run on a laptop automatically combined with our Apple MDM and DEP: this means when we buy a new laptop for a new hire, everything is on it and up to date as soon as they unwrap the box!
We use Kolide to make sure all employee laptops are patched and secure and we don't have any bad agents running on any of the machines. It generates reports for us about laptop security which is great. Their UI is simple enough but has some minor issues they've been working on for a while. I'm sure it's going to get better!
Summary
This is not a exhaustive list of what runs Cloud 66, but a start! I'm going to come back and update the list as we find out more about each tool we use and as our requirements change. In the meantime, please feel free to drop me a line and tell me what you use to power your business!
---