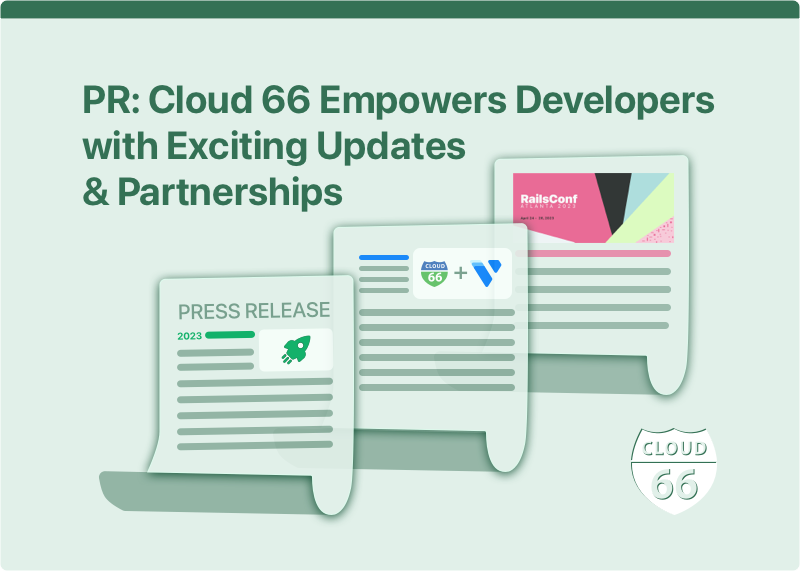 San Francisco, CA, USA and London, UK, 24 April 2023 - Cloud 66, a leading provider of DevOps tools to build, deploy and maintain Rails, JAMstack, and containerized applications is proud to announce several updates and milestones, including exciting partnerships, a new dashboard, multi-database and user management features, Registered Servers and sponsorship of RailsConf23 and Ruby for Good.
Cloud 66 Supports Rails and Ruby Communities Through Sponsorship of RailsConf23 and Ruby for Good
We are excited to sponsor RailsConf and Ruby for Good, two important communities in the Ruby on Rails world. We believe in supporting these communities and providing opportunities for developers to come together, learn from each other, and make a positive impact.
RailsConf23, Atlanta 24th April 2023
RailsConf brings together developers, designers, entrepreneurs, and enthusiasts from all over the world to learn about the latest trends and best practices in Rails development. As a video sponsor, we will be supporting the event with engaging video content that highlights our commitment to helping developers build, deploy, and maintain great applications.
"Cloud 66 support and partnership have been invaluable in helping us bring this event to life and providing a platform for learning and growth in the Ruby/Rails community. We truly appreciate your dedication to the industry and look forward to continuing our collaboration in the future," says Tom Chambers from Ruby Central.
We're thrilled to be a part of this exciting event and look forward to connecting with attendees, sharing our expertise, and learning from the vibrant Rails community. Thank you for choosing Cloud 66 as your application deployment partner, and we can't wait to see you at RailsConf.
Supporting Ruby for Good Community and their Impactful Projects
Ruby for Good is a non-profit organization that brings together developers, designers, and other volunteers to build software for social good. Their mission is to use technology to make the world a better place, and they've already made a significant impact on a variety of causes, from improving access to healthcare to promoting environmental sustainability.
At Cloud 66, we believe that technology can be a force for good in the world, and we're honored to support organizations like Ruby for Good that share our vision. Through our sponsorship, we're providing Ruby for Good with the resources they need to continue developing high-quality software that addresses important social issues. We're also helping to promote their work and raise awareness of the important contributions they're making. As an example Ruby for Good works on Human Essentials, the eco-friendly project providing sustainable products for daily use.
Cloud 66 Enhances Database Management Capabilities, Offering Multi-Database and User Management
We've made significant updates to our database management capabilities, giving our customers the ability to manage multiple databases on the same server (or cluster) and to create custom database users.
Previously, Cloud 66's database servers or clusters only hosted one database, limiting the capacity for more complex infrastructure setups. However, with the latest enhancements, servers can host as many databases as required, all with their own users.
"We are constantly striving to offer our customers both flexibility and ease-of-use," says Khash Sajadi, CEO of Cloud 66. "Customers with more complex requirements often need more than one database. Our new feature allows for full logical separation of data without needing to spin up a whole new server, which saves both time and money."
These updates offer improved flexibility and scalability for Cloud 66 customers, enabling them to better manage their databases and infrastructure. With this latest enhancement, Cloud 66 remains committed to providing its customers with top-of-the-line deployment and management tools for applications.
Cloud 66 Registered Servers Enables Rails Deployment to Any Cloud, Any Server.
Registered Servers provide a simple and efficient way for developers to deploy and manage their infrastructure from a single platform, regardless whether the servers are hosted on cloud (e.g. AWS, DigitalOcean, Hetzner), bare metal (e.g. Latitude.sh) or even on-premises. With this feature, users can easily deploy their applications, set up backups and monitoring, and manage their infrastructure with complete control and flexibility.
"Registered Servers are a game-changer for businesses looking to streamline their infrastructure management," said Khash Sajadi, CEO of Cloud 66. "This feature provides increased flexibility and cost savings, and helps businesses scale up or down with ease."
To get started with Registered Servers, users simply need to log in to their Cloud 66 account and follow the simple step-by-step process. Once registered, they can manage their servers using the same intuitive interface that they use for cloud servers provisioned by Cloud 66.
To learn more about Registered Servers, visit our help page on Bring your own servers to Cloud 66.
Cloud 66 Launches New Dashboard to Help Customers Deploy and Manage Their Applications
Cloud 66 is pleased to announce the launch of a new dashboard that will provide developers with easy-to-use tools to deploy and manage their applications. The new dashboard is available now for all customers.
"We are thrilled to offer this new dashboard to our customers, which will help developers to deploy and manage their Rails, JAMstack, and containerized applications quickly and confidently," said Khash Sajadi, CEO of Cloud 66. "Our team has worked hard to create a powerful and user-friendly platform that meets the needs of our customers."
The new dashboard will provide customers with the following features:
A new centralised database management, scaling, and metrics interface.
A redesigned sidebar navigation common to all application-level pages. This has been organized to provide a more application-centric way to navigate.
A common header showing a key information and stack activity across all pages.
Customers can access the new dashboard by logging into their Cloud 66 account.
Hassle-free Deployments with Cloud 66 on Vultr - Celebrating a 3-year Partnership
Cloud 66 and Vultr now offer joint solutions for hassle-free deployments. Building on 3 years of joint customer success, our partnership provides the industry's most-reliable and flexible platform for deploying, managing, and hosting applications, with the greatest global reach and cost-to-performance.
"Cloud 66 and Vultr share a common goal. We are developers building tools for fellow developers to make DevOps easier and more predictable," said Khash Sajadi, CEO of Cloud 66. "Based on our experience supporting customers, we're excited to partner with Vultr to deliver cutting edge technologies that help businesses of all sizes succeed."
What's new at Vultr and Cloud 66:
Cloud 66 now natively supports the latest Vultr API, and correspondingly has additional regions and sizes (plans) available!
Vultr has expanded its reach to new regions, which are fully supported on Cloud 66 e.g. India, Japan, Africa, and Latin America - with more locations on the way.
Cloud 66 offers native database support, built & managed for you on your own Vultr servers. Managed backups make archive retrieval and disaster recovery quick and reliable.
Deploy on Vultr with Cloud 66, and take advantage of the following features zero-downtime deployments, serial or parallel deployments, and various rollout strategies, such as Blue/Green or Canary releases. You can deploy multiple apps simultaneously, allowing for even greater efficiency.
Cloud 66 now offers deployments for static sites (JAMstack) with the following features: automated SSL certificates, a powerful traffic routing engine, multiple domains with apex support, and unlimited team members. Now developers can deploy directly to Vultr Open Storage.
"We've had incredible success supporting customers over the past 3 years leveraging Cloud 66. Our partnership has been built on a shared commitment to delivering reliable and secure cloud infrastructure solutions.," said J.J. Kardwell, CEO of Vultr. "We look forward to continuing to deliver innovative solutions to our customers."
Cloud 66 and Google Cloud Partner to Deliver the Best Deployment and Management Tools on GCP
Cloud 66 and Google Cloud are pleased to announce a strategic partnership to deliver innovative cloud solutions to businesses worldwide. The partnership will leverage Google Cloud's powerful infrastructure and Cloud 66's deployment and management platform to provide businesses with scalable, reliable, and secure cloud infrastructure solutions.
"We are excited to partner with Google Cloud to deliver innovative cloud solutions to our customers," said Khash Sajadi, CEO of Cloud 66. "Cloud 66 is designed to simplify cloud infrastructure management, and we believe that our partnership with Google Cloud will help us take this to the next level."
The partnership between Cloud 66 and Google Cloud will provide customers with the following benefits:
We're particularly excited about Continuous Usage Discounts with Google Cloud, which enables customers to take advantage of cost savings as they use more Google Cloud resources, while still maintaining a Heroku-like experience. This means that as customers use more resources on Google Cloud, they receive discounts on their monthly bills, making it an even more cost-effective solution. Customers can benefit from these discounts while still enjoying PaaS-like ease and convenience, thanks to the powerful deployment pipelines, load balancing, and auto-scaling capabilities, and comprehensive monitoring and logging tools provided by Cloud 66.
Developers can deploy their applications and databases to any Google Cloud region and availability zone, for increased availability and reliability. Customers who choose Google Cloud as their deployment destination can claim $300 of Google Cloud free credits and will get a $100 free Cloud 66 credit, allowing them to trial all features of Cloud 66 in addition to the power of Google Cloud, for free.
Now customers can create multiple databases on the same server (or cluster) and can create their own database users.
If you need assistance with the credit process or have any questions about this partnership, please don't hesitate to reach out to our support team.