KAI Software, a web development and consulting firm, creates software solutions, mobile applications, and web applications for small and medium businesses. KAI Software deploys containerized applications with Cloud 66 Maestro to multiple clouds and servers.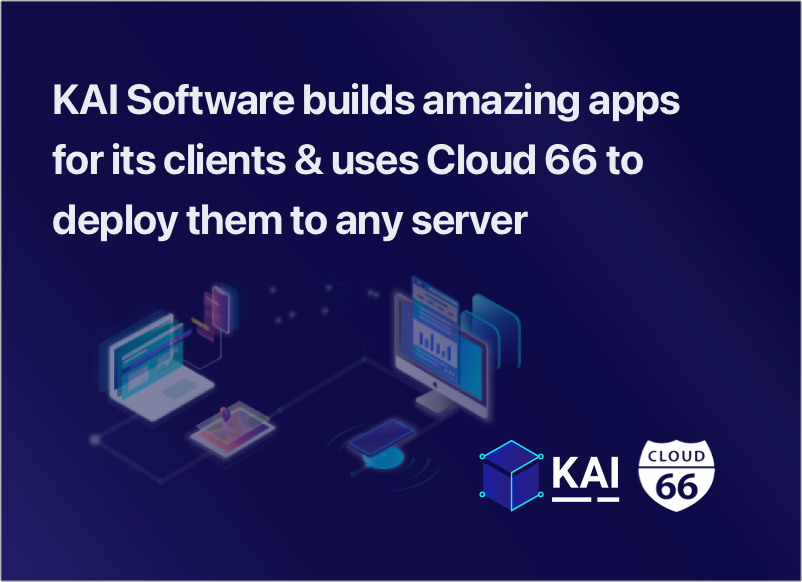 KAI Software Overview
KAI Software was founded in 1994 by Mykhailo Nazarenko. The agency specializes in mobile and web application development, management automation and consultancy. With a global presence, over 26 years in operation, and a team of highly-skilled developers, KAI Software offers invaluable services to its clients. It's in the company's DNA to evaluate each project individually and to adapt its services to each client's needs. KAI Software uses multiple technologies in its projects e.g. Node.js, Java, VuseJS, Python, Kubernetes to name a few. It is an early adopter of technologies, being one of the pioneers in providing projects based on Blockchain technology in America.
What services does KAI Software offer? KAI Software provides three solutions for its clients:
Custom software - By combining machine learning with a deeply knowledgeable team, KAI Software creates software which automates your working processes, simplifying how you manage your business.
Mobile applications - KAI Software creates mobile applications (iOS and Android), allowing you to scale your business. The agency uses cutting edge technologies to build mobile applications from scratch, making them both user and company-friendly.
Web applications - KAI Software constructs comprehensive platforms that make it easy for you to manage your app. The agency also helps you to integrate and automate CRM, resource management and optimization of the platform.
Who is using KAI Software? KAI Software offers services to small and medium enterprises, in the B2B and the B2C sectors. It works across multiple industries, from Fintech, AI, Blockchain to Real Estate, Health and Education. KAI Software works with thousands of companies, including Bestow, So.Capital, Positive Energy LTD,  GigKloud, Keyz.co, and many more.
How to get in touch/ How to get started? To get started with KAI Software simply visit https://kaisoftware.io/ website and send a request through the contact form. The agency has multiple offices all over the world, so the closest manager to your location will get back to you and get started with your project right away.
To find out more about the KAI Software I got in touch with the CEO - Volodymyr Nazarenko. Volodymyr can you tell us more about KAI Software and your experience with Cloud 66?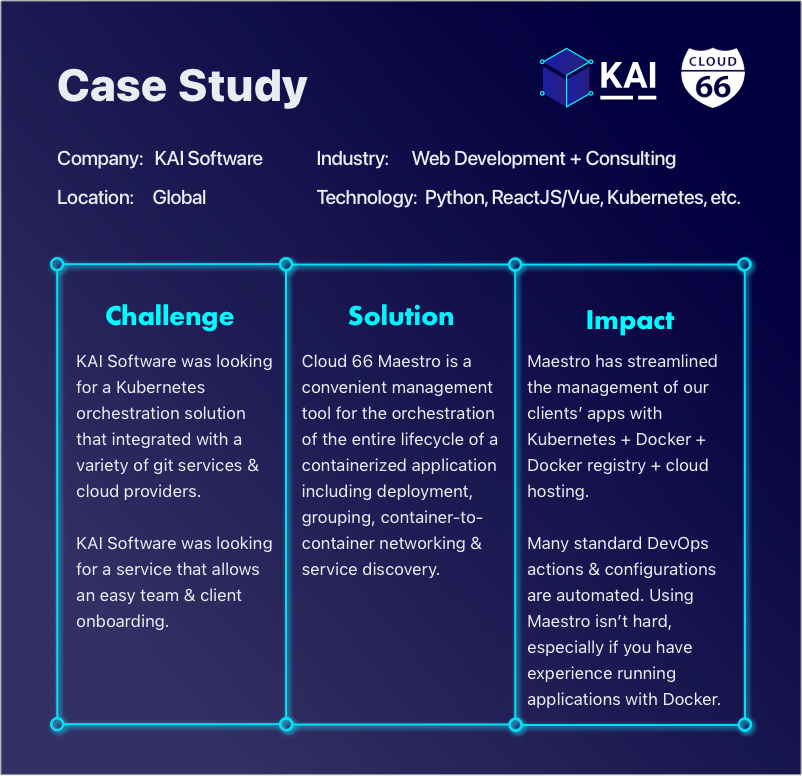 What are KAI Software business needs?
KAI Software provides an automated solution to create environments, deployment, and monitoring of the infrastructure for our clients, with different user rights. We look for solutions that are integrated with a variety of git services and server providers.
We have over 100 people on our team and we were looking for a solution to support our developers. We come across Cloud 66 by accident, through Google.
Can you tell us how the KAI Software infrastructure is setup?
Currently, we are using Cloud 66 Maestro with different cloud services like Google Cloud, DigitalOcean, or AWS. It helps us to set up, monitor, and manage our different app's environments (dev, QA, staging, production). Maestro is a convenient management tool for the Kubernetes orchestration of the entire lifecycle of a containerized application including deployment, grouping, container-to-container networking, and service discovery.
We can copy/create new environments very easily and quickly from other environments. It has handy features like auto-delivery of new app versions, alerts about the deployment process or crashes, setting up and backing up databases, configuring load-balancers, and managing network access. It allows us to work with different cloud hosts and use different roles and access permissions for our team to configure/deploy app environments.
We like that all Cloud 66 infrastructure configuration files are stored in version control with a history of changes. We can quickly copy and configure new environments from existing ones. It is simple to add database servers, load-balancers, database backups, or SSL. The cx console tool allows us to easily manage our app environments via the API. It is useful to be able to configure Slack notifications for incidents with a deploy process or with environments.
Why did you choose Maestro Kubernetes?
We decided to use Maestro because it most suited our selection criteria for managing our clients' apps with Kubernetes + Docker + Docker registry + cloud hostings. Many standard DevOps actions and configurations are automated. Using Maestro isn't hard, especially if you have experience running applications with Docker.
Lastly, what are KAI Software's future plans?
We are currently working with a variety of clients in different industries, so we plan to keep using the current solutions Cloud 66 provides. We don't really develop our own products as we provide software development services for B2B clients, but we will be happy to announce the products of our clients if they want to participate.
It is awesome to work with Volodymyr from KAI Software. Thank you for finding the time to chat with us about KAI Software and your experience with Cloud 66 Maestro. It's always a pleasure to discover all the unique ways in which our customers are using Cloud 66 products.