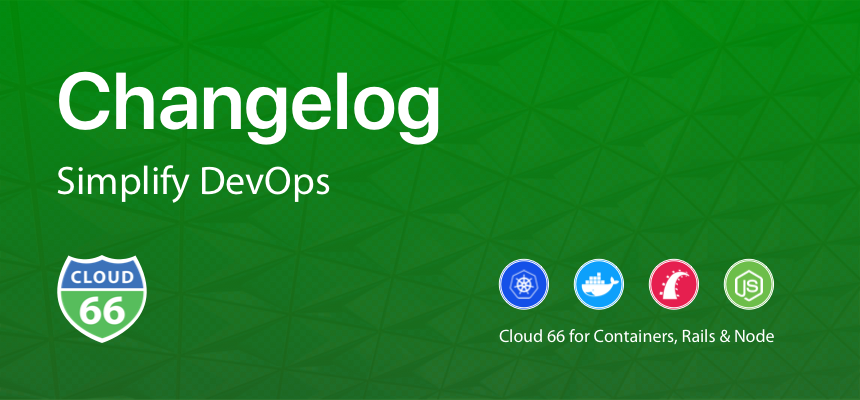 Welcome to the Cloud 66 Changelog. Please take a quick look at the latest changes that have gone out this week!
Introducing Alterant - a Configuration Transformer
Today, we are excited to release Alterant, another Cloud 66 open source product which changes configuration files based on your instructions. Alterant is a Descriptive Configuration Modifier. It reads configuration files in yaml or json and modifies them based on your scripts. You can think of it as an elegant and understandable equivalent of XSLT but for JSON and YAML!
For more information, check out our announcement blog post or visit our help page.
Note: Alterant support is coming soon to Cloud 66 Skycap, allowing Skycap users to apply their Alterant modifier scripts during the deployment workflow in Skycap.
Support for AWS T3 instances
These are the next generation of burstable instances. Check out the AWS announcement! And if that whets your appetite; take a look at the tech specs.
Ruby Security Patch Releases
We've added support for the latest Ruby patch releases. Cumulatively these address:
CVE-2018-16396: Tainted flags are not propagated in Array#pack and String#unpack with some directives
CVE-2018-16395: OpenSSL::X509::Name equality check does not work correctly
See the official Ruby downloads page for more information about the patch releases. Stay safe!
Ruby/Rails File Permission Updates
By leveraging native Linux file permissions we've been able to modify our normal Rails deployment flow to both reduce the occurrence of permission errors AND increase the speed of deployment! Read all about it in our blog post!
---
♥ We are hiring a Software Engineer.Apply here.
---
MEET US AT
KubeCon NA, 11-13 December 2018 in Seattle
Meet us at KubeCon & CloudNativeCon North America. Hear about our experience in running Cloud 66 on containers and Kubernetes, as well as how we use our own products to manage our own stack—including Skycap, our Container Deployment Pipeline. Stop by our booth - S80.
---
CLOUD 66 SLACK COMMUNITY:
Get involved by taking part in our Cloud 66 Slack Community.
You can also access it via your Cloud 66 dashboard.