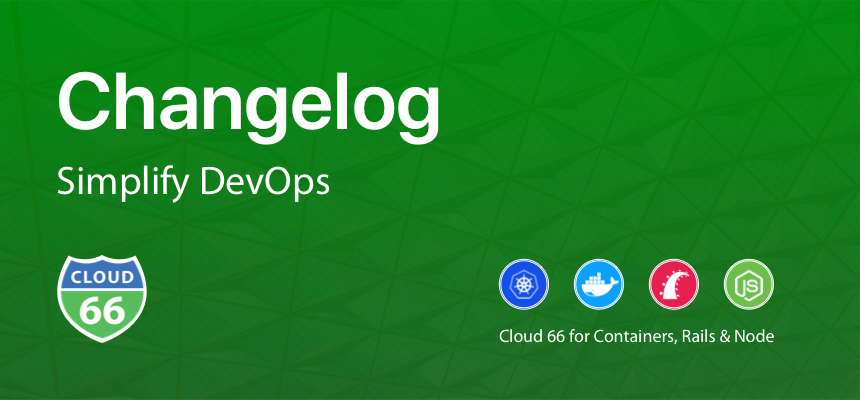 Welcome to the Cloud 66 Changelog. Please take a quick look at the latest changes that have gone out this week!
New Formation Support
We've released our latest iteration of Skycap Formations : Formations let you construct Kubernetes configuration files to deploy your application on any Kubernetes cluster anywhere.
You can read more about Formations here, or simply just get started with your first Formation here.
Better Skycap Documentation
We have embarked on a major project to improve our product documentation and the first steps of this effort are now available for you to see: Skycap documentation is now much more coherent and helpful. We hope you enjoy using the product and its documentation.
Faster Deployment Log Loads
The server details page including deployment and server logs now load much faster for older deployments. This should make your page loads much faster. We are working on more performance improvements in this area.
BuildGrid Speed Improvements
We've just rolled out some restructuring of our BuildGrid pipeline for stacks that have multiple services that are building images from the same source. By aggregating the build operations we can save a lot of time for stacks with many services being built in parallel. Tell us how we're doing without BuildGrid!
---
♥ We are hiring a Technical Support Engineer.Apply here.
---
MEET US AT
ContainerCamp UK, 6-7 September in London
After your well-deserved summer break, meet us at ContainerCamp UK. Ask us about developer tools to bring policy-as-code, configuration, security and secrets management into the container deployment pipeline.
Gartner Catalyst Conference, 26-27 September in London
We are proud to be a silver sponsor of Gartner Catalyst Conference (EU). Stop by our booth to hear how our customers use Skycap as an automated self-service tool for multi-environment Kubernetes, and Maestro for multi-cloud Kubernetes ops.
All Day DevOps, 17th October Online
We are supporting the live online All Day DevOps conference. This is a 24 hour event with session tracks include Cloud Native Infra and Monitoring, DevSecOps and Automated Security, CI/CD - Continuous Everything, SRE - Site Reliability Engineering, and Cultural Transformation.
---
CLOUD 66 SLACK COMMUNITY:
Get involved by taking part in our Cloud 66 Slack Community.
You can also access it via your Cloud 66 dashboard.