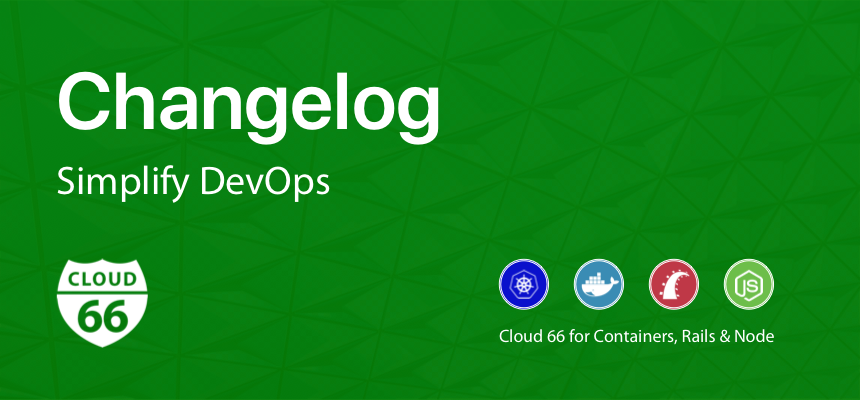 Welcome to the Cloud 66 Changelog. Please take a quick look at the latest changes that have gone out this week!
Maestro Health Check Documentation
It was pointed out recently that our Maestro (CSv2) health check documentation was lagging (even though the implementation has been available for some time). We've corrected that now! See it here.
The main point worth mentioning is that we provide full support for Kubernetes Readiness Probes and Liveliness Probes - this allows you to deploy your services safe in the knowledge that if they don't succeed (based on your own criteria) they will not be served traffic; and more importantly, your existing pods will not be replaced! Happy deploying!
Performance/Stability Groundwork
We've now successfully rolled out some major changes (including server infrastructure/Ruby/Rails/Webpacker updates) which will provide the groundwork we need to start implementing specific performance improvements! Stay tuned!
New GCE regions and server sizes
We have added some new regions and server sizes for GCE that you can deploy to starting immediately!
The following additional regions have been added:
London, U.K.
Frankfurt, Germany
Eemshaven, Netherlands
Mumbai, India
Sydney, Australia
São Paulo, Brazil
Montréal, Canada
The following additional server sizes have been added for select regions:
Memory-optimized machine type with 40 vCPUs and 961GB of memory
Memory-optimized machine type with 96 vCPUs and 1.4 TB of memory
Memory-optimized machine type with 160 vCPUs and 3.75 TB of memory
Build Steps View
If you are using Habitus to build Docker images in a workflow, you can now see the Habitus build steps in the UI for every snapshot that is happening on each one of your services.
---
MEET US AT
OpenShift Commons briefing, 28 June 2018 at 9 AM PDT
Register for the webinar where we will talk about making the most of your production clusters by bringing policy-as-code into the Container Delivery Pipeline.
Cloud Native London Meetup, 3rd July 2018 at 6.30 pm in London
Let's meet at Cloud Native London Meetup, where Khash will talk about how the 'Success in Kubernetes is about the conversation'.
Google Cloud Next, 24-26 July 2018 in San Francisco
You can also meet us at Google Cloud Next, and talk about how GKE helped us accelerate our own roadmap (read more about that here).
---
CLOUD 66 SLACK COMMUNITY:
Get involved by taking part in our Cloud 66 Slack Community.
You can also access it via your Cloud 66 dashboard.