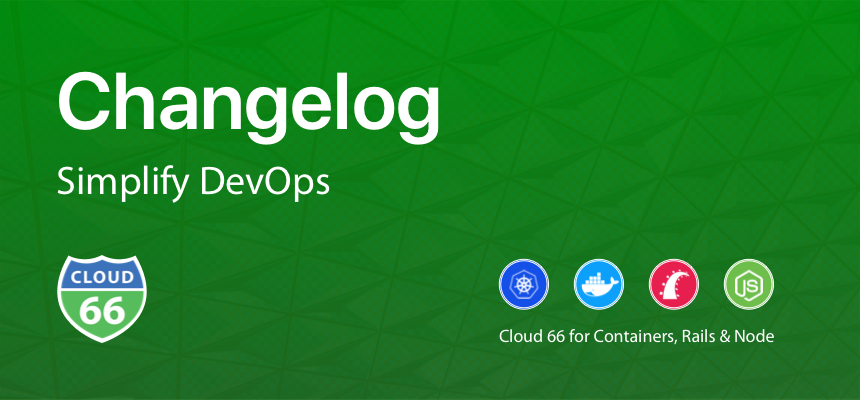 Welcome to the Cloud 66 Changelog. Please take a quick look at the latest changes that have gone out this week!
⚠️ Security Reminder
Our customers' security is our highest priority. Our products act as your DevOps team and we take the responsibility of making sure your infrastructure is secure from malicious attacks and human errors very seriously. We would strongly encourage you to review all your accounts and add Cloud 66 security feature that are available to you.
Read more about Cloud 66 Security Best Practices.
⚠ Cloud 66 Security Features List:
These are some of the ways you can improve the security of your Cloud 66 account. Over the next few months, we will be rolling out more features and tools to help you improve your production and infrastructure security.
Application Environment Changes
While having an exclusive "environment" for Rails and Node applications makes sense, it doesn't apply very well to Maestro and Skycap apps. We made a change to reflect this by removing the Environment as an exclusive attribute on the application and moving it into a tag like other tags. For Rails and Node applications nothing is different but on Maestro apps you will not see Environment like before.
This means filtering applications by the environment is not possible like before but we are working on better filtering and search based on tags to improve this.
Ruby Patch Versions Released
Ruby patches v2.6.2 and v2.5.5 have now been released!
See more on what's in these releases here:
https://www.ruby-lang.org/en/news/2019/03/13/ruby-2-6-2-released/
https://www.ruby-lang.org/en/news/2019/03/15/ruby-2-5-5-released/
---
MEET US AT
KubeCon Europe, 20-23 May 2019 in Barcelona
Meet us at KubeCon & CloudNativeCon Europe. Hear about our experience in running Cloud 66 on containers and Kubernetes, as well as how we use our own products to manage our own stack—including Skycap, our Container Deployment Pipeline.
Container Days, 24-26 June 2019 in Hamburg
Check out our talk at the Container Days event, where the European container community will gather for three days full of container craziness. Let's get in touch and learn more about Kubernetes Deployment Pipeline.
---
CLOUD 66 SLACK COMMUNITY:
Get involved by taking part in our Cloud 66 Slack Community.
You can also access it via your Cloud 66 dashboard.