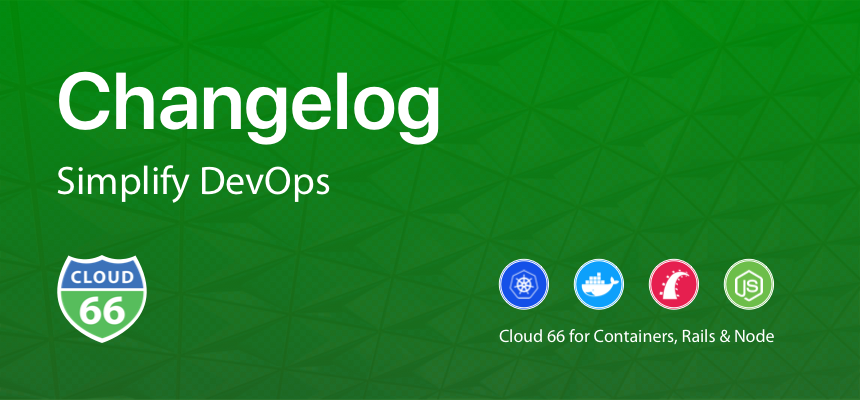 Welcome to the Cloud 66 Changelog. Please take a quick look at the latest changes that have gone out this week!
Support for ALB and NLB
Long awaited by you, our customers, we're pleased to announce support for native AWS Application Load Balancers for HTTP/HTTPS traffic and Network Load Balancers for TCP traffic! To learn more about these checks out this detailed info from Amazon.
Part of this release includes support for multiple NATIVE load balancers on your stack; (meaning "HAProxy", of which you can only still have one per stack). Want to read the docs, there is a little more in the way of help documentation here.
Support for PostgreSQL 11
Its here! We now support PostgreSQL 11 and PostGIS 2.5.0!
New stacks will have these versions by default (unless you specify different versions in your manifest)
Check out whats new!
---
♥ We are hiring Software Engineer.Apply here.
---
MEET US AT
CNCF Webinar, 29th January 2019 at 10 am PST
Find out more about Alterant, an open source tool that offers a transparent way to modify Kubernetes Configuration Files on the fly. Join us here!
KubeCon Europe, 20-23 May 2019 in Barcelona
Meet us at KubeCon & CloudNativeCon Europe. Hear about our experience in running Cloud 66 on containers and Kubernetes, as well as how we use our own products to manage our own stack—including Skycap, our Container Deployment Pipeline.
Get 20% discount for the KubeCon Europe 2019 ticket with the code: KCEU19SPON
Please select the registration type "Corporate" and fill out the registration form.
---
CLOUD 66 SLACK COMMUNITY:
Get involved by taking part in our Cloud 66 Slack Community.
You can also access it via your Cloud 66 dashboard.