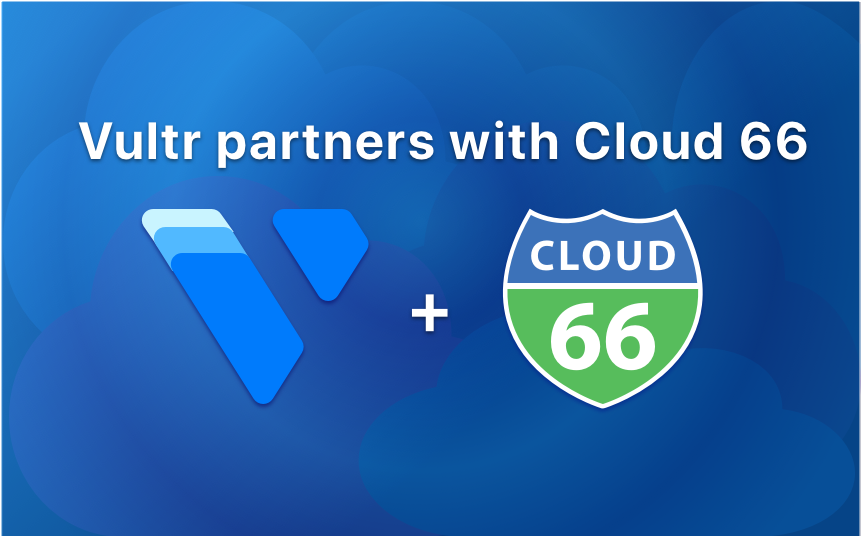 Until now developers could only deploy applications with Cloud 66 to Vultr with our Registered Servers feature. This works well, but is missing some nice extra touches that we offer for our partner cloud providers. Today we are very excited to announce that Vultr is joining Cloud 66 and you can choose to deploy to Vultr directly from your Cloud 66 dashboard!
A few words about Vultr. It's a simple, scalable, high-performance SSD cloud platform that is available in 16 different regions around the globe, and now works seamlessly with Cloud 66.
Why Vultr?
Both Cloud 66 and Vultr believe in empowering developers and businesses by simplifying the deployment of infrastructure. Vultr, by offering its advanced cloud platform, and Cloud 66, by offering a reliable and flexible application deployment and management platform. In a nutshell, we are developers who are building tools for fellow developers to make engineering easier.
In addition to this, of course, are the numerous requests for integration from our existing customers (who until now have deployed to Vultr using our Registered Servers feature).
What does Vultr offer?
Vultr, founded in 2014, is led by veterans of the managed hosting business with over 20 years of experience in complex hosting environments. Their mission is to simplify the cloud.
Vultr offers :
16 strategically placed regions, that would allow you to launch a cloud environment close to you and your customers.
Full resource control. Local root and out-of-band console access are provided on all compute instances.
No vendor lock-in and no contract, with a simple, hourly, pay-as-you-go pricing model.
Note: Have more questions about Vultr? Visit their FAQ page.
What does Cloud 66 offer?
Since 2013, Cloud 66 has helped developers to build, deploy and manage any application on any cloud. We deploy apps 2 million times a day for thousands of developers around the world. You can think of us as a PaaS (like Heroku) but on your own servers.
Cloud 66 Products :
Cloud 66 for Rails -  lets you deploy your Ruby on Rails (or any other Rack-based) applications to the cloud. Cloud 66 for Rails offers ease of management and reduces the load on your DevOps resources.
Cloud 66 Maestro - is a full container management service. It builds a Kubernetes cluster on your servers, builds your code into Docker images, takes care of databases, firewalls, and network for your applications on any cloud. It is a perfect option to quickly and easily deploy any application that has a Dockerfile.
Cloud 66 Skycap - is a Container Deployment Pipeline. You can use Skycap to automatically turn your source code into container (Docker) images, manage your Kubernetes configuration files and deploy your applications to any existing Kubernetes cluster.
Note: Visit our FAQ page for more information.
Let's get started.
To get started, simply choose Vultr from the list of cloud providers on Cloud 66 dashboard, and deploy your stack.
To celebrate our partnership and to help you kick the tires with Cloud 66 and Vultr, we're offering $66 of free credit on Cloud 66. Just use the code: Hello-Vultr when you set up for a Cloud 66 account. This perk applies to new sign-ups only.
Additionally, we've arranged for $66 free Vultr credits, exclusive to Cloud 66 users. To claim the credit use the coupon code: CLOUD66. This promo is valid for 66 days after Vultr account activation, and for brand new accounts only.
Vultr support is now available from the Cloud 66 dashboard for all our existing customers.