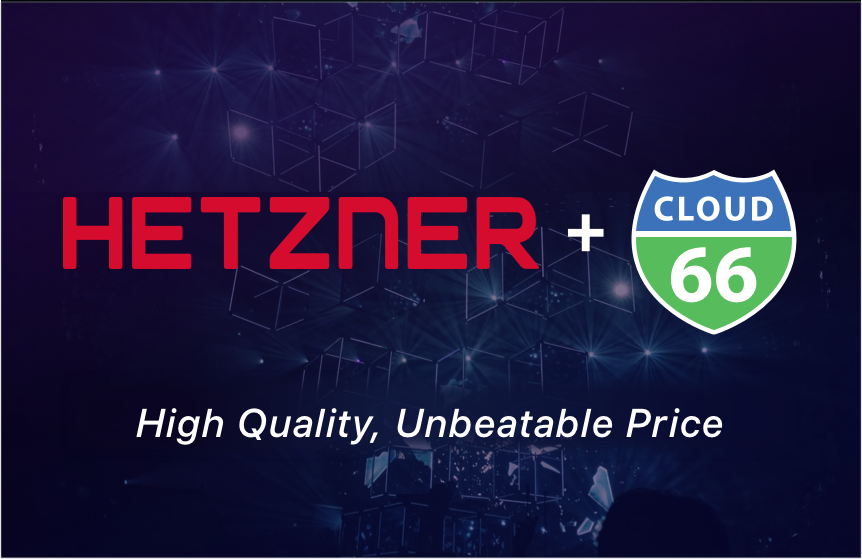 We are excited to announce our partnership with Hetzner Cloud, a new cloud provider joining Cloud 66 family. With over 20 years experience and a number of custom-built datacenters located in Germany and Finland, Hetzner is a great deployment option for Cloud 66 users.
Why has Cloud 66 partnered with Hetzner?
With the German territorial data storage regulation and the European implementation of GDPR, partnership with Hetzner Cloud was a no brainer. Hetzner is one of Europe's leading datacenter operators. It offers fast and cost-effective cloud servers, perfect for Cloud 66 users.
Like Cloud 66, Hetzner is developer-centric platform. Hetzner's focus on high performance motivates it to constantly improve its products. This closely corresponds with the price-to-performance ratios.
Lastly, we love the fact that Hetzner takes responsibility for the environment and uses energy from renewable sources to power its datacenters.
What does Hetzner offer?
In a nutshell, Hetzner Cloud offers a simple, safe and customizable cloud solution, rich in features and intuitive usability.
Hetzner offers:
No vendor lock-in and no contract. If you have a Hetzner Cloud server for less than a month, you only pay the hour-based fee. Starting at 2.96 Euro.
Hetzner Cloud offers a wide range of features, e.g. snapshots, floating IPs, data protection and more. Also, all of the features are available via API.
Hetzner hosts its cloud instances in its own datacenters in Nuremberg, Falkenstein (Germany) and Helsinki (Finland).
You can get started without waiting. With their friendly interface, you can create server instances almost instantly, usually in under 10 seconds.
What does Cloud 66 offer?
Cloud 66 helps developers to build, deploy and manage any application on any cloud. We deploy apps 2 million times a day for thousands of developers around the world. You can think of us as a PaaS (like Heroku) but on your own servers.
Cloud 66 Products :
Cloud 66 for Rails -  lets you deploy your Ruby on Rails (or any other Rack-based) applications to Hetzner Cloud. Cloud 66 for Rails offers ease of management and reduces the load on your DevOps resources.
Cloud 66 Maestro - is a full container management service. It builds a Kubernetes cluster on your servers, builds your code into Docker images, takes care of databases, firewalls, and network for your applications on any cloud. It is a perfect option to quickly and easily deploy any application that has a Dockerfile.
Cloud 66 Skycap - is a Container Deployment Pipeline. You can use Skycap to automatically turn your source code into container (Docker) images, manage your Kubernetes configuration files and deploy your applications to any existing Kubernetes cluster.
Let's get started.
To get started, choose Hetzner cloud from the list on Cloud 66 dashboard, and deploy your first stack!
To honour our partnership and to help you get started with Cloud 66 and Hetzner, we're offering $66 of free credit on Cloud 66. To claim the perk, signup for Cloud 66 account and enter the code: Hello-Hetzner in the Cloud 66 dashboard Settings. (This perk applies to new sign-ups only).
Additionally, with the courtesy of Hetzner we've arranged for 10€ in free credits exclusive to Cloud 66 users only. To claim it, creating an account, then logging into console.hetzner.cloud, go to Usage and click on Redeem Code, and enter the promo code:  HICLOUD66. (This promo is valid until March 31 2020, for 3 months after activation. For new sign-ups only).
Enjoy and Deploy Happy!