This case study showcases Commutatus, a consulting development agency that creates mobile and web applications for small and medium businesses. Commutatus manages Rails applications with Cloud 66 on multiple clouds and servers on behalf of their clients.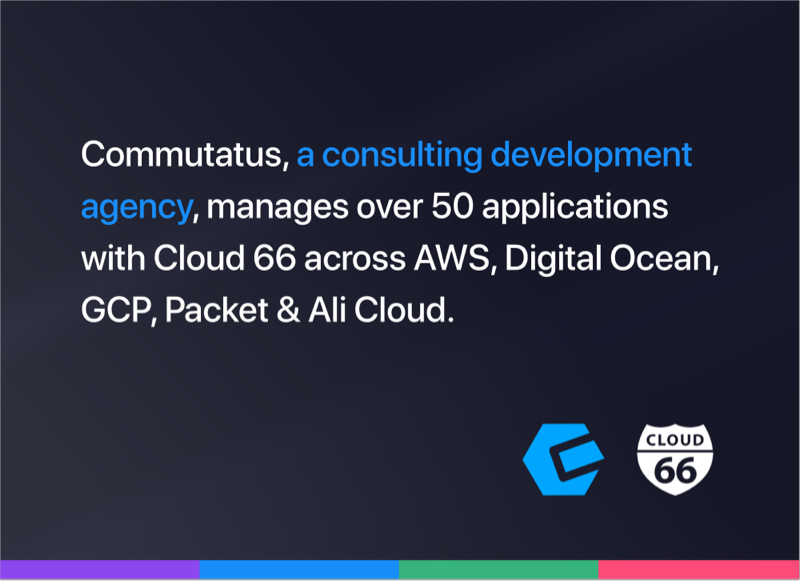 Commutatus Overview
Commutatus, founded in 2015 by Michael Victor, is a digital agency that offers UI/UX and development services. Commutatus constantly updates and improves its services with the latest technologies and industry standards.
Commutatus Services:
Web Development
Mobile Development
UX/UI design
Product Consultation
Commutatus Values:
Innovation - Commutatus thrives on finding solutions to new problems.
The highest standards of creativity, with a focus on excellence.
Teamwork - working collaboratively across disciplines leads to smarter work, stronger ideas and deep team building.
Keeping it real -  transparency, trust, truthfulness, and commitment.
Embracing challenges -  Commutatus faces challenges head-on, boldly and tirelessly.
Who is using Commutatus? Commutatus works with small businesses and startups. It has amassed an impressive 70+ partners since its launch in 2015. The platforms that it manages currently serve as many as 60,000 daily users and facilitate over 7,000 daily transactions.
A typical customer requires help with the launch of a website or web application to get them started. Some of the bigger companies they have worked with in the past are: AIESEC, Mentormind, MyCaptain, Ragya, Civis, Gehna & Intellecap - CAIF.
How to get in touch/ How to get started?  To get in touch visit Commutatus website and hit Contact Us link on the bottom of their page. You can also reach out to Commutatus through Twitter and Instagram: @Commutatus
To find out more about the Commutatus I got in touch with Michael Victor, the CEO.Michael can you tell us more about Commutatus and your experience with Cloud 66?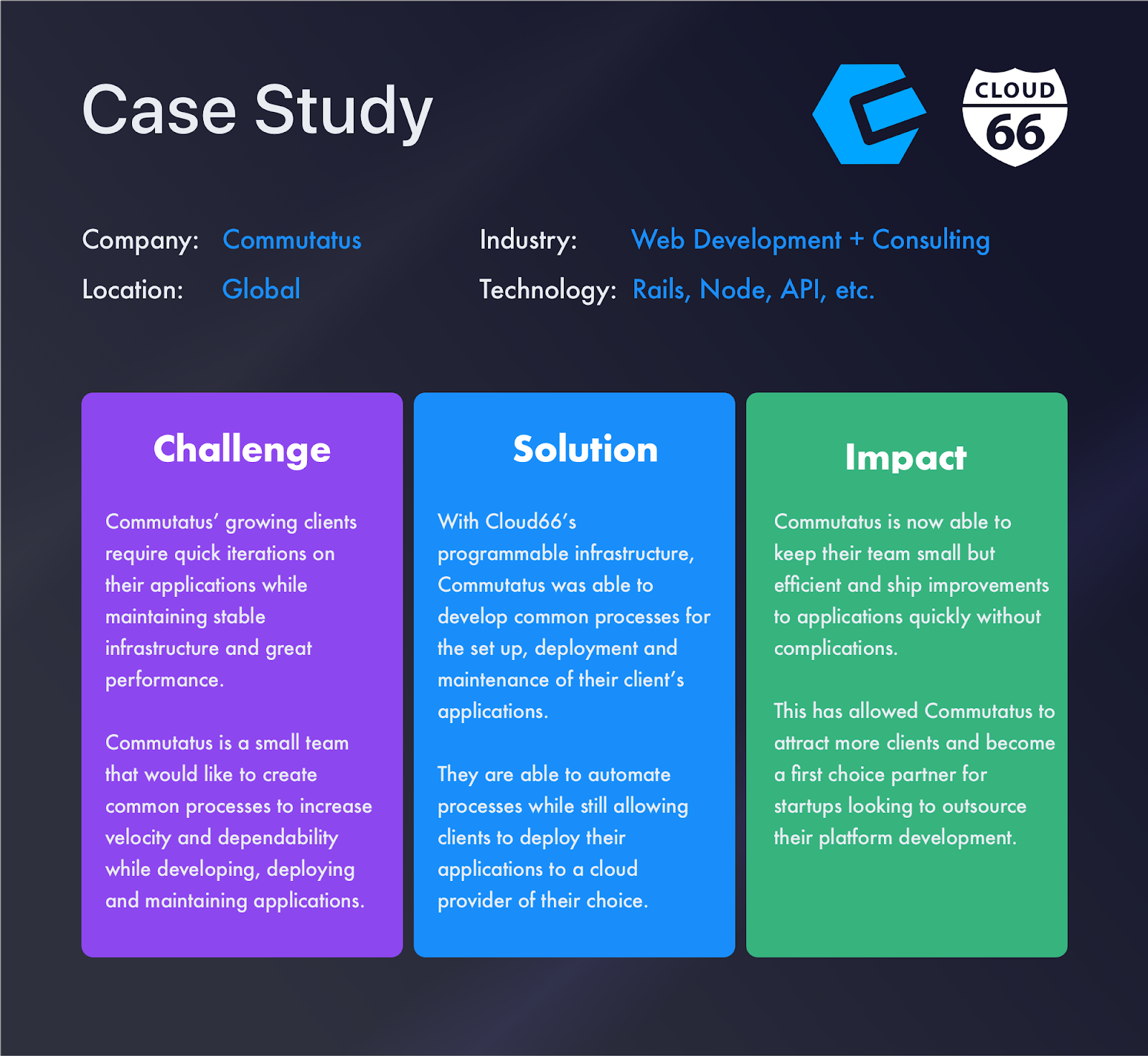 Can you give us an overview of your agency's needs?
As a development agency, we manage mission-critical applications for our clients. We continuously churn out new features and improvements as their business grows and we help to scale their systems accordingly.
We're a small team given the number of platforms that we manage; hence we needed an infrastructure service that is easy to deploy & scale, and is flexible and secure. Cloud 66 was the perfect solution for us.
With Cloud 66, managing our client's infrastructure is seamless, even with all the different hosting accounts and regions. We now have over 50 applications deployed to Cloud 66 and we intend on adding more!
Cloud 66 also abstracts a lot of overhead of network security, server management and SSL from us so that we can focus on what matters, i.e. building great products!
How is the Commutatus infrastructure set up?
We host most of our API applications on Cloud 66 as they have an efficient 'out of the box' Rails integration. We have, in the last couple of years, documented a simple process to set up a Rails application with all the customizations we need from Cloud 66 into an internal framework.
With Cloud 66's infrastructure service abstraction we can easily support clients with different hosting requirements such as AWS, Digital Ocean, GCP & Packet. We've even deployed servers into Ali Cloud using their registered servers option.
As a web development agency what projects have you run on Cloud 66?
AIESEC in Mainland of China : AIESEC in China required us to build a localised version of the global system's user interface and authentication platform. Without any difficulties, we provisioned registered servers, and deployed code to the AIESEC in Mainland of China systems hosted on AliCloud and AWS CN.
MyCaptain: MyCaptain serves tailored online workshops to over 20,000 students a month. We facilitate live discussions and evaluations via user interfaces for the student, teacher and operation executives. We have an API layer as an application on Cloud 66 and have started scaling the application via the Cloud 66 API based on the time of day and also request queue time.
Ragya : Ragya is the online music streaming service dedicated to Indian Classical Music. Ragya has over 1000 hours of music that can be streamed over the web and mobile apps. We have an API layer that manages the ingestion & streaming of music. Several stream events such as play, pause, next, and seek are sent over to the API for analytics as well. Processing music files requires specific tools to be installed on the server such as FFmpeg. We used deployment hooks in Cloud 66 to achieve this.
Lastly, what are Commutatus's future plans?
Last year we realised that our responsibility did not just include building out new features for our clients but also to ensure that their systems were functioning efficiently, secured and cost effective.  With that in mind, we rolled out our infrastructure monitoring service where we could monitor health and business metrics to ensure that their applications are serving their intended purpose effectively.
With this service, we've been able to control technical debt, improve security and overall implement best practises to make development, maintenance and deployment on our applications easier! Cloud 66's programmable infrastructure has allowed us to build in these standards into any client deployment.
Our association with Cloud 66 is as old as Commutatus itself and it would not have stood the test of time i.e 5 years without Cloud 66's amazing support team. They've been patient, checking in if our problems were resolved and finally, being blunt, telling us when Cloud 66 cannot help our situation and presenting us with alternatives.
It is awesome to work with Michael Victor from Commutatus. Michael thank you for finding the time to chat with us about Commutatus and your experience with Cloud 66 for Rails. It's always a pleasure to discover all the unique ways in which our customers are using Cloud 66 products.