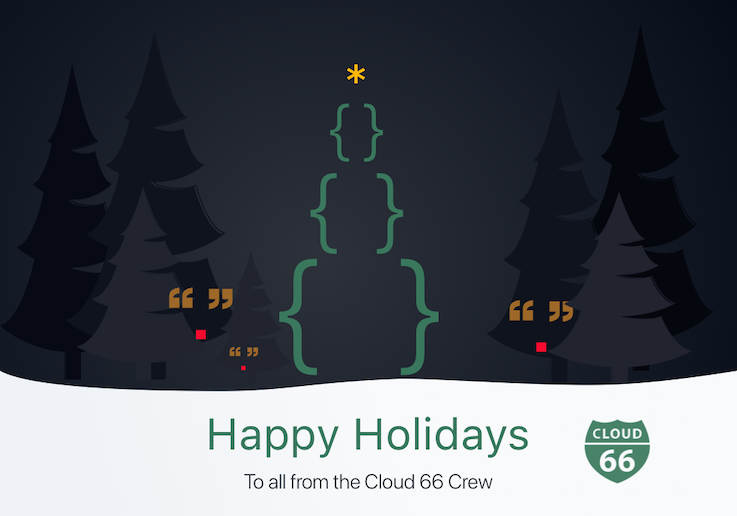 We wish you a holiday season full of magic and happiness. We hope 2023 sparkles with marvellous code, smooth pipelines, effortless deployments, and dazzling successes.
We want to take a moment to thank all our customers for choosing Cloud 66 for your deployments. You are fabulous and we are humbled by your continued support!
Happy Holidays from the Cloud 66 Crew!
Holiday Schedule:
Our offices will be closed for the following days:
Monday 26th,
Tuesday 27th of December 2022 and
Monday 2nd of January 2023.
We will be responding to urgent support tickets and premium support customers during the holiday period. The responses might be delayed.
[Tip] Keep your 2FA safe. Don't lose access to your Cloud 66 account
If you get a new phone this holiday season or lose your current one (😱), you may not be able to log into your Cloud 66 account without your two-factor authentication (2FA) emergency recovery codes. So make sure you print them out and keep them somewhere safe (and memorable)! Also, remember to keep your phone number up to date in your Cloud 66 account!
A few words from our CEO
This year we passed a milestone: Cloud 66 is now ten years old! When Vic and I started Cloud 66, we knew what we wanted to build but had little idea how difficult (yet enjoyable) our journey would be. Today, after helping thousands of fellow developers to deploy tens of thousands of applications millions of times, I couldn't be more proud of what we have achieved. But, of course, we wouldn't be here without the most important part of our business, you, our fellow developers, who always kept us focused on our mission and demanded nothing but the best.
I wish everyone happy holidays and a new year full of health and joy for you and your loved ones.
Cheers!
We Celebrated Cloud 66 10-year Anniversary
We couldn't be done it without you! On this 10th anniversary of Cloud 66, we share our goal with our current and future customers: we are your partner, not just another vendor. Your success is what makes us successful.
Our work in 2022
We are extremely proud that we were able to support so many developers this year. In 2022 we rolled out a number of new tools and features. We also implemented improvements to enhance our service.
Just a few highlights:
We kicked off 2022 by allowing you to list, add, configure and remove Failover Groups via the API and the Cloud 66 Toolbelt (cx). Next, we worked on improvements to onboarding and the GitHub integration, as well as UI improvements to our dashboard, in a few stages:
We consolidated health check information into a single section of the Dashboard (under application settings) to simplify configuration and evaluation.
We rolled out our new "operation log viewer" with full-text search, collapsible sections, a context viewer, and support for permalinks to each line for communicating issues with your team.
You can now find all team management tools under Account Settings > Collaboration. This includes new pages for managing team membership and assigning roles and access permissions, both per application and account-wide.
We updated the Sidebar Navigation by adding Configuration into Application Settings, and by moving Preview Deployments from Application Settings to the application overview page.
We added a new Service Detail Page, where Information about services and containers has been consolidated into a single page.
Finally, we consolidated all our products into one. This means that you can still deploy your favourite frameworks with us (Rails, Jamstack or containers), but you don't need to select a specific product for each framework. Read more.
We rolled out a Cloud 66 for Static Sites to general availability, with the following features:
Automated SSL certificates;
Traffic Rules - a powerful traffic routing engine;
Frameworks: Hugo, Gatsby, Jekyll, Next.js, Vue.js, Nuxt.js, Svelte, Middleman, and Docusaurus;
Cloud support: Google Cloud, DigitalOcean, Azure, and Linode;
Multiple Domains with Apex Support.
We also released improvements to our rolling deployment workflow (for Rails/Rack applications). We now use an improved heuristic to better balance the available server resources across your server deployment groups and have introduced server tags in case you want to override and control the allocation of server deployment groups yourself.
We've also made application scaling a lot faster! This is achieved by taking snapshots of your servers' disks at the end of a successful deployment. These snapshots are then used as the base when scaling up new servers, which greatly decreases the time required. In our tests we've observed at least a 3x decrease in scaling time!
Additionally, we released Account Protection Level (APL) which skips 2FA security if it thinks your access is secure and there is no need to use 2FA to verify it further. Of course, you can adjust this behavior on your Account page to follow a more strict policy or a more relaxed one.
To stay up to date, you can visit our changelog page. Discover our features and tools via our help page or videos. Please get in touch if you would like to share your company's story with us. Lastly, thank you for being an active community with our support team and on the Cloud 66 Slack channel- we really value your thoughts, feedback, and suggestions - they've helped us make a lot of targeted improvements.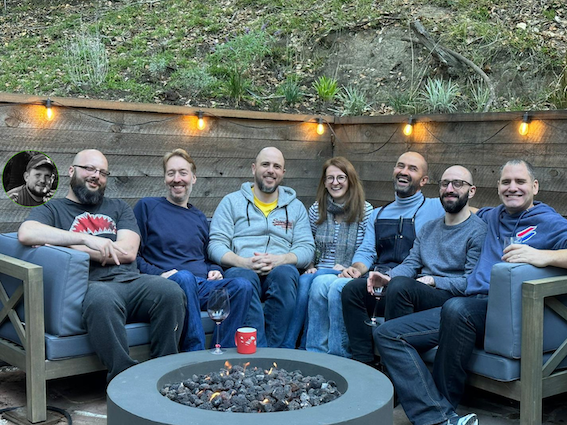 Happy Holidays!