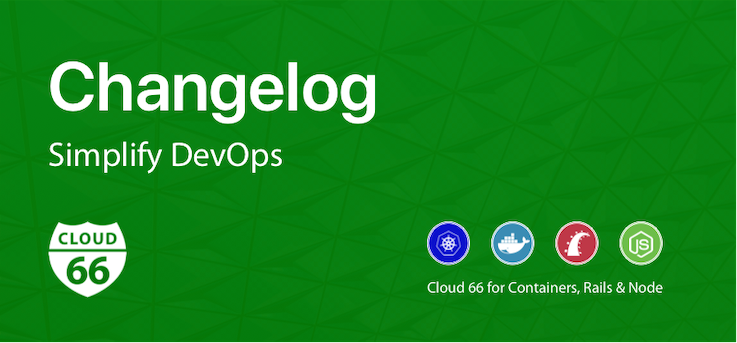 Welcome to the Cloud 66 Changelog. Please take a quick look at the latest!
PostgreSQL v10 & PostGIS v2.4
Yes, you read that correctly! Support for PostgreSQL v10 is now available (this includes backups/restores/imports/replications!). All new PG instances will be v10 by default now—you can, however, deploy older versions by using your manifest to specify a specific PG version
And for anyone using PostGIS (there are a lot of you actually!)—new installations of PostGIS will now be using v2.4 unless otherwise specified in your manifest.
For more detail on these awesome new things:
PostgreSQL v10 changelog and PostGIS v2.4.3 changelog
New Documentation
Astute users might have already noticed that we have released new help & documentation pages. We've changed the entire structure and organised each help document into four categories based on our products (Rails, Node, Skycap and Maestro).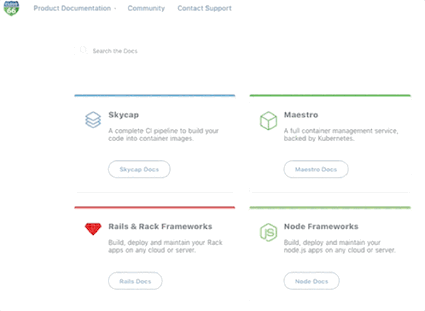 We've applied our engineering minds to this, so the result is a structure that should be infinitely easier to maintain and update. That said, this is just the beginning so tune in for more improvements.
Check out the new documentation page here—we'd love to get your feedback on it!
CNCF Announcement
We are delighted to announce that Cloud 66 joined the CNCF as a Silver sponsor. We are working with the foundation on contributing from our years of experience in running on containers in production to this great community.
Read our blog post: Cloud 66 joins the CNCF.
---
MEET US AT
CloudFest, 12-14 March 2018 in Rust, Germany
We will be attending well-known hosting show CloudFest. Come and meet us to chat about Kubernetes, Container Delivery Pipelines and more.
CloudExpo, 21-22 March 2018 in London
This year we are an exhibitor at the DevOps space in CloudExpo Europe. Come talk to us about Kubernetes, Container Delivery Pipelines and more—Stand number C1662.
RailsConf, 17-19 April 2018 in Pittsburgh
We are a proud sponsor of RailsConf 2018, the world's largest and longest-running gathering of Ruby on Rails enthusiasts, practitioners and companies. We hope to see you there! Stand number TBA.
KubeCon EU, 2-4 May 2018 in Copenhagen
You can also meet us at KubeCon & CloudNativeCon Europe. Talk to us about our experience in running Cloud 66 on containers and Kubernetes, as well as how we use our own products to manage our own stack—including Skycap, our Container Delivery Pipeline. Stand number TBA.
---
CLOUD 66 SLACK COMMUNITY:
Get involved by taking part in our Cloud 66 Slack Community.
You can also access it via the Cloud 66 dashboard.