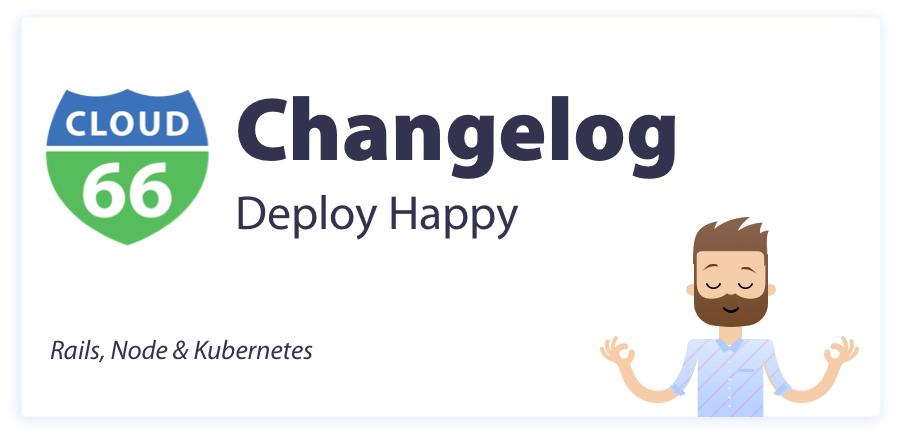 Welcome to the Cloud 66 Changelog. These are the changes that have gone out this week:
Fast Deployments for Maestro
We're very pleased to announce the general availability of Fast Deployments in Maestro. These deployments perform application deployment only (skipping server and component maintenance steps). Your application will be built (if appropriate), deploy_commands will be executed, and your images will be published. Any overlapping Fast Deployments will be automatically queued, which fits perfectly with CI/CD pipelines!
Standard deployments can be performed ad-hoc to update your system components or scale additional servers.
Read our blog post about Fast Deployments and visit our help page for more information!
Daemonset support in Maestro
We're happy to announce that we now natively support Kubernetes Daemonsets in Maestro stacks. A Daemonset is a type of Kubernetes service that ensures that your service has exactly one running pod on each worker server. You can configure a service as a Daemonset now via your service.yml.
See the official Kubernetes Daemonset documentation to learn more!
2FA Reminder: keep the 2FA Recovery Codes safe
A quick reminder of the critical importance of two-factor authentication (2FA). If you haven't already, please visit our 2FA help page for a guide to enabling 2FA on Cloud 66 account.
We strongly suggest downloading your 2FA Recovery Codes, printing them out, and storing them safely. You can download your recovery codes when you enable 2FA on your account, under the same Login and Security section. In addition, you can enable a secondary authentication mechanism like FIDO keys and add your phone number on the Account page. These will allow you to recover your account if you're ever unable to use your normal 2FA method.
More
Cloud 66 Slack Community
Get involved by taking part in our Cloud 66 Slack Community. You can also access it via your Cloud 66 dashboard
KubeCon Tickets Giveaway
Get in touch to get a free KubeCon tickets from Cloud 66. We have a few tickets left and we will give them away on the first-come, first-serve basis.