On 10th November together with Packet, we hosted an introduction Demo to show you an end-to-end solution to host your Node application on a bare metal cloud. This is the summary and the link to the Demo.
Deploy your Node app in production with Cloud 66 on Packet bare metal cloud. If you missed the webinar, click on the image below and catch up with the Demo.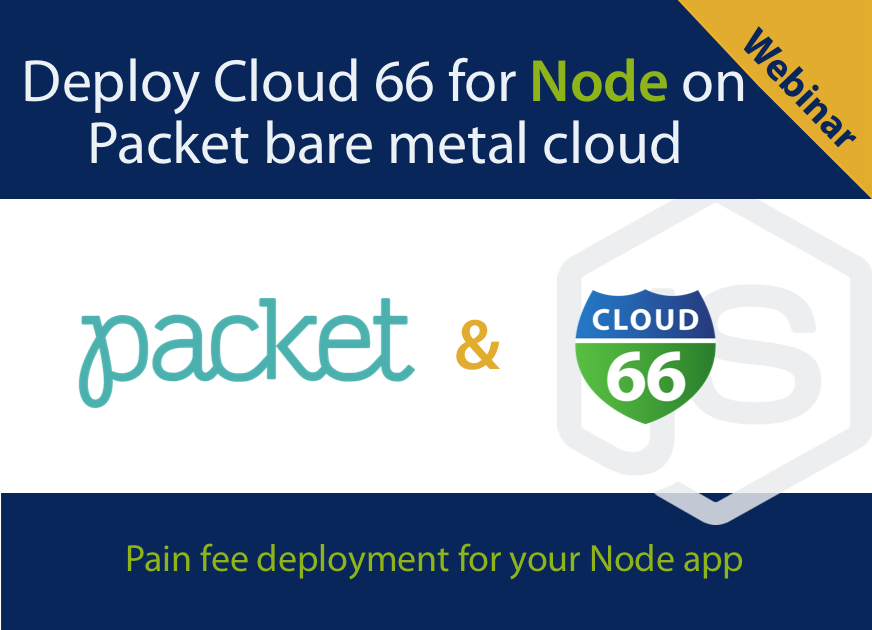 The webinar covered following points
Introduction to Packet and Cloud 66;
Overview of Cloud 66 for Node and the support frameworks like Express, Socket.IO and Meteor to name a few.
Packet upcoming data centers announcement;
Live Demo:
Showcase how to get started with Cloud 66 & Packet;
Step-by-step how to deploy Node app with Cloud 66 on Packet;
A short introduction to some useful Cloud 66 for Node features (Let's Encrypt, SSL certificate, ElasticSearch, Load balancer, Databases, Backups and Replications, Network, ActiveProtect, Powerfull Scaling, LiveLogs, easy to use cx command line and more);
Why host your Node app on Packet with Cloud 66?
Node developers have lacked a reliable deployment solution, that would allow them to deploy a node stack in production with the minimum maintenance.
Cloud 66 for Node helps developers roll out software faster and more reliably to easily scale applications to simplify DevOps. With a PaaS functionality and the flexibility of owning your virtual or bare metal servers, Cloud 66 took everything customers love about their Rails and Docker products and made it accessible to developers looking for a solid Node deployment experience.
Supporting all popular node frameworks, including Meteor , and offering a wide range of tools it helps you deploy your Node application to production with ease.
The agility of Node, flexibility of Cloud 66 and the power of bare metal servers, allows you to increase the performance of your applications by a factor of 3x to 4x without making any changes to your code. This is a huge win for your business both in terms of customer satisfaction and reducing your costs.
Have more questions?
Sign up for Cloud 66 account with 2 weeks free trial and take you Node app for a spin. Or request a one-to-one demo with us.