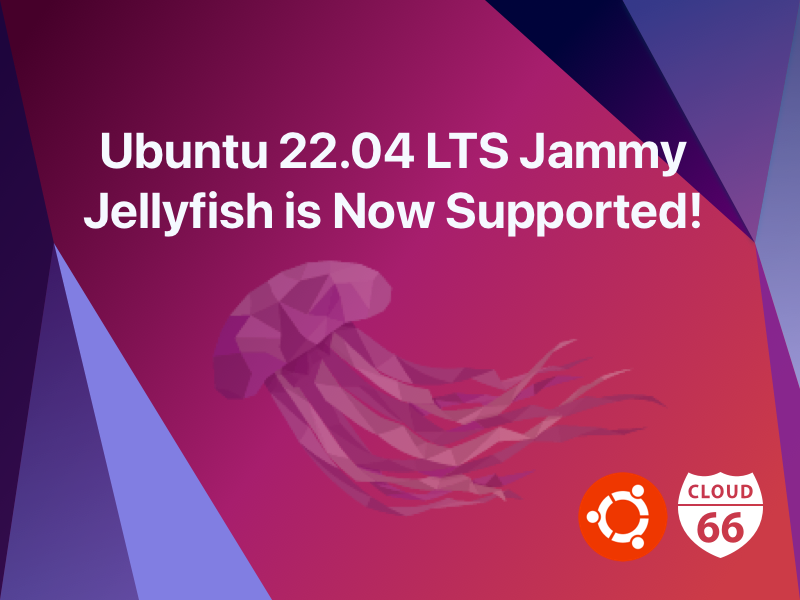 Announcing support for Ubuntu 22.04 LTS Jammy Jellyfish on all Cloud 66 products (including registered servers). From this point onward, brand-new applications will have Ubuntu 22.04 installed. We will continue to install Ubuntu 20.04 when scaling up servers in an existing application. Don't forget, you can control your target Ubuntu version through your manifest!
Ubuntu 22.04 is a Long-Term Support (LTS) release and will receive ongoing app updates and critical security fixes till April 2027. Ubuntu 22.04 brings a whole lot of feature changes, for more information on these please see the official release notes.
What version do I have running now?
You can now view your stack's operating system versions via your stack information page. It will show you all the operating systems you have on your stack's servers (as there may be more than one). Each server information page now includes information about the operating system running on that server.
From this point onward, brand new applications will have Ubuntu 22.04 installed. One caveat is that Rails/Rack users must be on at least v3.1.0 of Ruby to use Ubuntu 22.04 due to some core OpenSSL version updates.
How to upgrade?
For existing applications, due to differences at an operating system level, it isn't possible to perform an in-place upgrade of the operating system. Instead, you should use a manifest file to specify your target operating system (remember to commit and deploy it), then scale up new servers which will be based on the target operating system you have in your manifest.
Servers on Ubuntu 18.04 (and less)
Users with servers that are still on Ubuntu 18.04 (or less) should be looking to migrate to Ubuntu 22.04 as soon as possible. This is because Ubuntu 18.04 is now approaching EOL for standard patch support. Although Cloud 66 will endeavor to keep those running, upstream dependency changes could make that impossible at any point in the future.