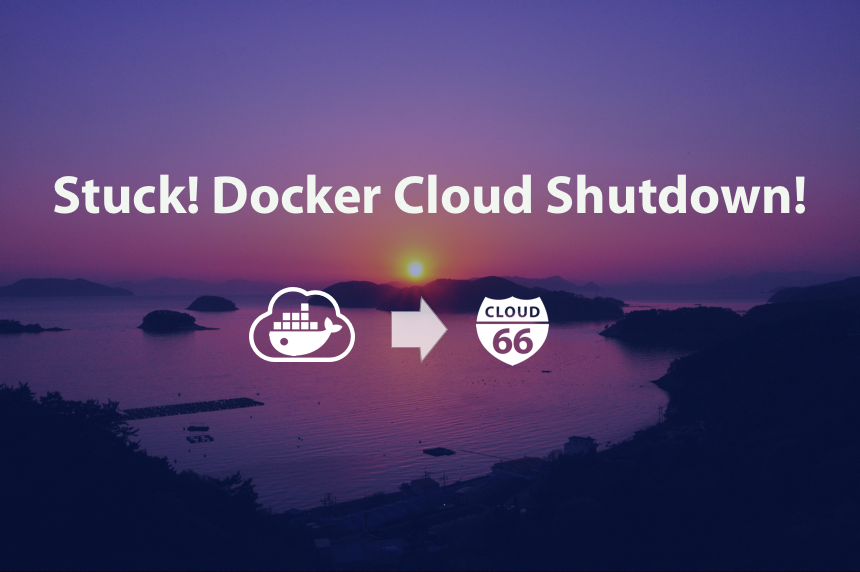 Yesterday - 20th March 2018 - Docker Cloud made a shock announcement that they are sunsetting their SAAS-based Cluster and application management services on 21st May 2018. If you're running your application infrastructure on Docker Cloud right now, then you have just 60 days to migrate it somewhere else! In infrastructure terms, 60 days is the blink of an eye... so the time to act is now! Don't get stuck!
Personally I've been a customer in a situation similar to this - and it sucks - everything running smoothly, infrastructure is sorted, deployment pipeline is sorted, you can concentrate on other parts of your business...
...then BAM! External injection of sudo priorities --force change
Luckily this time round I am on the other side and can actually help! Docker Cloud users looking for alternatives can come and give Cloud 66 a try. I know you're probably reading this thinking "the vultures are circling" - but in this case we've got what you need - come and see for yourself.
Furthermore, as you've been forced into this position, we'll give you a goodwill promo code DONTLEAVEME worth $50 so that the small players out there don't have any additional short-term burden to add their existing (unsolicited) cognitive load!
TL;DR
Cloud 66 does a lot - basic migration path:
Sign up for a new Cloud 66 account - use promo code DONTLEAVEME for a $50 credit
Create a new maestro stack and deploy this to your cloud provider; or your own servers
Use Skycap to automatically build your docker images; push them to a private repository; and deploy based on git push; or manual push via web/api
Optionally migrate your data to your stack - if you're running your data source inside Docker Cloud you will need to do this
Switch your traffic - change your external DNS provider to point to your new generated stack CNAME
Profit!
Why Cloud 66
We started Cloud 66 back in 2012 - and our goal then is still the same as our goal now - make developers' lives better! Since then we have grown exponentially; and are now proud to have helped tens of thousands of developers around the world, deploying and managing thousands of servers in 100+ locations globally. We're not going anywhere :)
Furthermore, we believe that infrastructure exists to serve you, your business and your application. But however obvious this might sound, we still see new infrastructure management tools every other day that solely focus on servers and other components in a data center without making it easier for developers to use.
Where do I even start?
Coming from Docker Cloud - you'll want to be looking at comparable service. At Cloud 66 we have Cloud 66 for Containers in this space. Cloud 66 for Containers looks after the entire infrastructure (from code to production) for a container-based application, with two simple parts:
Skycap - A container deployment pipeline (CDP), that address many challenges faced by development teams adopting micro services and container-based applications. Skycap builds your code into an image - optionally using multiple steps via Habitus; tags it appropriately; and pushes it to a secure private repo for later use. Coming soon is native support for controlled deployment to external clusters via formations and even policy control for your configurations via Copper
Maestro - A full stack Application Management solution, backed by Kubernetes. Maestro builds, deploys and maintains your applications on any cloud and server as well as providing native database components, backups and replication, SSL, load balancing, team and organization access control, log management, firewall and active security monitoring of infrastructure, monitoring, auditing and much more. Now you can even create dedicated Maestro clusters for deployment of multiple stacks to shared infrastructure!
What does it cost?
All our pricing information is here: https://www.cloud66.com/pricing
And if you have any questions of course feel free to reach out to the team
See you soon!
Come and give us a try. If you're not sure about something please reach out! We're always super open to feedback and love to hear what you guys out there think. Lastly - best of the luck with the migration whatever you decide - may the force be with you!
Docker Cloud Shutdown References