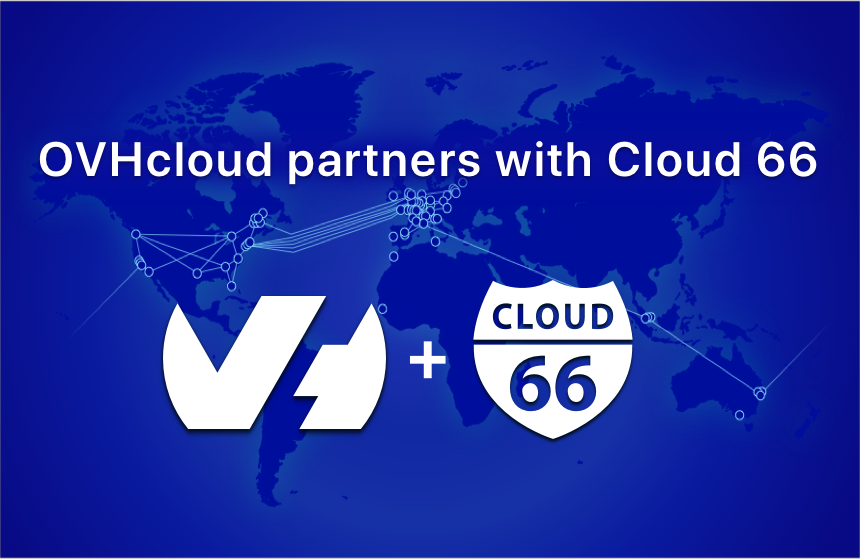 We are excited to announce that Cloud 66 is partnering with OVHcloud, a global cloud hosting company. OVHcloud is the largest cloud provider in Europe with data centers in Europe and North America. In addition to the Public Cloud services now available though the Cloud66 dashboard, it also offers VPS, dedicated, web and hosted private cloud services.
Why has Cloud 66 partnered with OVHcloud?
As part of our never ending quest to improve our products and meet the demands of our customers, we approached OVHcloud to become a strategic partner. OVHcloud is a technology company that meets developers needs with private, public, hybrid cloud and bare metal servers. We like the fact that OVHcloud has a global reach, but at the same time is serious about data protection, making sure its customers keep control over their own data.  
OVHcloud's mission is to create technology that is accessible and affordable, and it aims to achieve this through an open ecosystem and open cloud. Cloud 66 shares these ambitions - we want to build simple infrastructure that adds value to startups all over the world.
What does OVHcloud offer?
OVHcloud owns and manages 30 data centers across 12 sites in 6 countries. It has a global fibre-optic network and controls the entire hosting chain. And this year it celebrates 20 years of innovation for freedom.
OVHcloud offers :
Multi-local. Worldwide data centers with local teams. Offers a global infrastructure and availability but with local operation in mind. More importantly, respect for data safety and local legislation.
Accessible. A broad range of products and services. Affordability and predictive prices making technology accessible to all.
Reversible. Open interoperability and commitment to an open ecosystem where users control the technology and platforms. Open standards to ensure reversibility and interoperability.
Transparent. Clear information on pricing model, services and options.
Last year OVHcloud announced the availability of Manage Kubernetes Services, which perfectly complements Cloud 66 Skycap.  (Note: Managed Kubernetes Service is not available with OVHcloud US)
What does Cloud 66 offer?
Cloud 66 helps developers to build, deploy and manage any application on any cloud. We deploy apps 2 million times a day for thousands of developers around the world.
Cloud 66 Products :
Cloud 66 for Rails - lets you deploy your Ruby on Rails (or any other Rack-based) applications to any cloud. Cloud 66 for Rails offers ease of management and reduces the load on your DevOps resources.
Cloud 66 Maestro - is a full container management service. It builds a Kubernetes cluster on your servers, builds your code into Docker images, takes care of databases, firewalls, and network for your applications on any cloud. It is the perfect option to quickly and easily deploy any application that has a Dockerfile.
Cloud 66 Skycap - is a Container Deployment Pipeline. You can use Skycap to automatically turn your source code into container (Docker) images, manage your Kubernetes configuration files and deploy your applications to any existing Kubernetes cluster.
Note: Visit ourFAQ page for more information.
Let's get started.
To get started, simplychoose OVH from the list of cloud providers on Cloud 66 dashboard, and deploy your stack.
To celebrate our partnership and to help you kick the tires with Cloud 66 and OVHcloud, we're offering $66 of free credit on Cloud 66. Just use the code: Hello-OVHcloud when you set up a Cloud 66 account. This perk applies to new sign-ups only.
Additionally, we've arranged for $66 in free credits from OVHcloud, visit this page for more details.
OVHcloud & Cloud 66 Webinar:
To see OVHcloud and Cloud 66 in action, join our Webinar on Tuesday 30th June, 2020 at 4 PM BST.