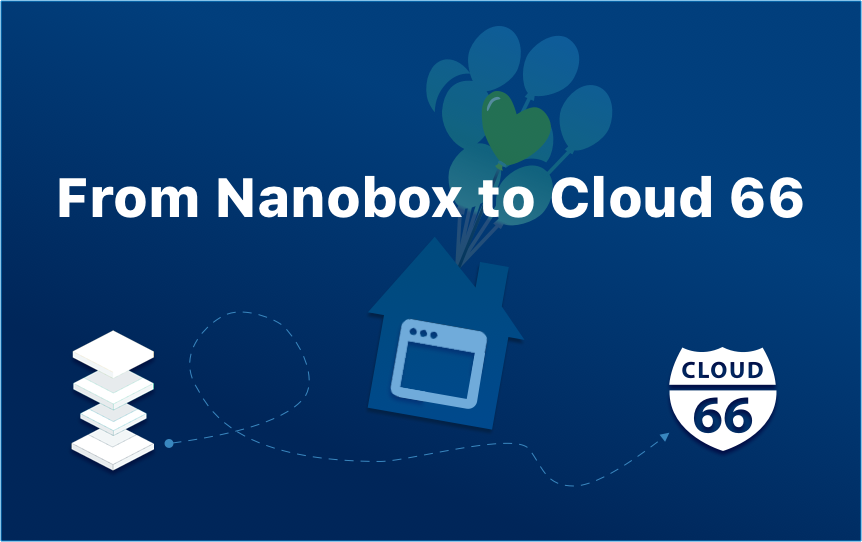 Back in April,  DigitalOcean announced its acquisition of Nanobox. As a result, Nanobox will only be available via DigitalOcean with support for a limited number of languages and frameworks. All the changes will be fully implemented in the next 12 months and they aim to build more focussed DigitalOcean PaaS.
I'm reaching out to developers who would either like to deploy to other cloud providers or to deploy frameworks or languages that will be deprecated by Nanobox via DigitalOcean. Come and check Cloud 66 out!
_ Note :_ Thank you to our advocates & the community for recommending Cloud 66. ♥
Cloud 66 key benefits:
Cloud 66 makes it extremely easy for developers to configure and deploy software to any server. Our products are like your in-house DevOps team. They take care of your uptime, scaling, and security, just like your own team would. Combine the convenience of PaaS with the flexibility and control of IaaS, for your Rails, Node, and containerized (Kubernetes) infrastructure.
Full flexibility. Build and configure your servers the way you want.
Full control. You have SSH access to all your servers.
Resize server CPU, memory & disk for free.
No vendor lock-in. Deploy to any cloud or your own servers. Native integration with AWS, GoogleCloud, Azure, Linode, DigitalOcean, and Packet. Use our Registered Serversfeature to deploy anywhere else.
Choose the right product:
Cloud 66 for Rails - builds, manages and maintains your Rails applications that can be deployed to any cloud provider or to your own server. It helps you scale your database with master-slave replication, without having to make any configuration changes. You can add back-ups, load balancers and de-commission servers with a single click.
Cloud 66 for Node - allows developers to deploy and manage their Node applications to any cloud or server. Support for popular Node frameworks is available.
Cloud 66 Maestro (A complete PaaS, backed by Kubernetes with native database and storage support) - is a full stack application management platform. With support for containers (backed by Kubernetes) and complete with support for non-containerized parts of your infrastructure including firewalls, network config, databases (provisioning, monitoring, backups and replication), security and ACL access control, OS and server level security monitoring, deployment workflow management, native DB and storage components and more. Maestro allows developers to deploy, manage & scale any app (any language, any framework), that has a Dockerfile.
Cloud 66 Skycap- is the easiest way to deploy and run applications on any existing Kubernetes cluster. You can use Skycap to automatically turn your source code into container (Docker) images, manage your Kubernetes configuration files and deploy your applications to any Kubernetes cluster.  Find out how to deploy applications to DigitalOcean managed Kubernetes with Skycap.  
How to move from Nanobox to Cloud 66
Checklist before you get started:
Sign up for a Cloud 66 account with a free 4-week trial and no credit card required during the trial period.
A Git repo containing your application code. This can be a private or public repo.
A cloud account or your own server(s). Cloud 66 does not host applications. We natively integrate with major cloud providers to manage servers on your own account, or you can bring your own servers via our Register Servers feature. We will automate the build and deployment of your application to any cloud provider.
Move your apps in 3 steps: Code, Data and Traffic:
Step 1: Migrate your code
Once your Cloud 66 account is set up, you can use our dashboard to pull your code directly from your Git repository. We will analyse the code to determine what dependencies you have in your application.  This helps us to provision the required servers on your cloud account, configure & secure them, install components, etc.
_ Note : If you  have a private Git repository you will need to add SSH key to your Git account. And use the SSH version of the Git URL.  Learn more..._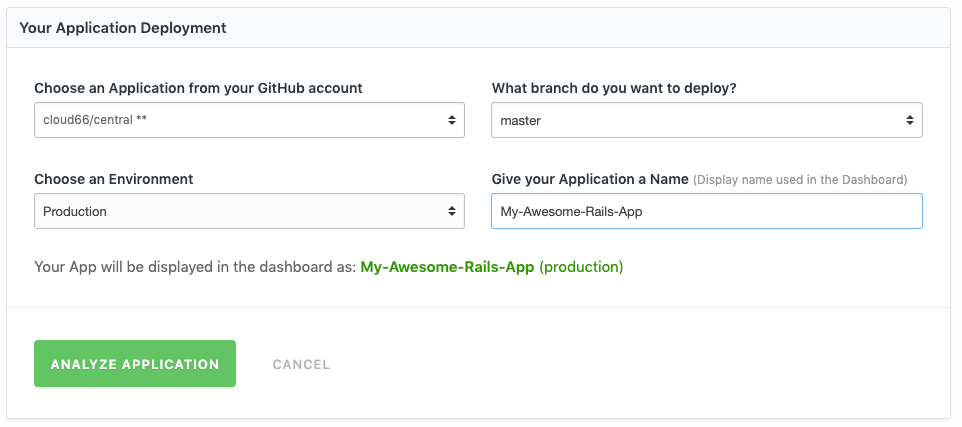 Step 2: Migrate your data
Once your code is deployed, you will need to migrate your data across. We support MySQL, PostgreSQL, MongoDB and Redis as well as ElasticSearch, MemcacheD and RabbitMQ out of the box and you can add and install your own components on the servers. They are your servers after all!
Note: Have a look at our help page to learn more about database migration and management with Cloud 66.
Step 3: Switch your Traffic
The last step is to point your public DNS at your new Cloud 66 application.  To redirect your traffic to the new version of your app, login to the admin console for your DNS provider and update your CNAME records to point to your new server. Check out our Configure your DNS documentation for more information.
_ Note : We recommend checking out our help documentation for the useful pointerson configuring your web server._
What does it cost?
We offer pay as-you-go pricing for all our products.
Rails, Node, and Maestro is a charge of $14.99 per server per month.
Skycap is a charge of $3.99 per service per month.
Successful Customers Stories
Have a quick look at Cloud 66 customers' successful user stories.
This case study features Positive Energy Ltd , a project that simplifies renewable energy finance. It showcases how Positive Energy uses Blockchain, Cloud 66 Kubernetes solutions, and Google Cloud to achieve unbeatable performance. Read more: Blockchain and Kubernetes, the technology behind Positive Energy Ltd
Techstars customer since 2014. "The cost of using Heroku started to increase, we began to notice performance issues, and we needed to update 3rd party services we were using via Heroku." Read more: Keeping infrastructure management within the Techstars family.
This is an interview with Trevor Hinesley about Soundstripe and Filepass , two startups that he co-founded, both of which run Rails applications on DigitalOcean with Cloud 66. Find out how these companies achieved DevOps best practices with our tools. Read more: Keep Creating, Stay Collaborating, and Make DevOps Simple.
This case study features Checkend , a company that supports e-commerce businesses by building applications for Shopify. It showcase Checkend's infrastructure setup, which includes the use of Containers and Rails deployments with Cloud 66 on Linode VPS and bare metal servers. Read more: Checkend Builds Ecommerce Apps For Shopify.
Spoon University , now part of the Discovery Channel. Happy customer since 2015. "Spoon University is built on a distributed architecture using several different technologies: Ruby-on-Rails, WordPress, a custom CMS, Cloud 66 Maestro, etc. The frontend is powered by a Docker cluster of node servers that pulls content from MongoDB and Elasticsearch." Read more: Spoon University + Cloud 66: creating an online food resource for Gen Z .
Space Babies uses Cloud 66 to innovate the process of building polyglot applications and create flexible architectures in support for multiple client projects. They gained more time to focus on building actual apps content and features, and less time to configure infrastructure. Read more: Space Babies: a Digital Agency on a mission to build beautiful web apps .
Learn about Qwilr early container journey. They were looking for an efficient solution that would allow it to run Node.js web server apps, connect to MongoDB, configure loadbalancer and deploy to AWS. Read more: How Qwilr turns business documents into attractive websites using Containers and Cloud 66
This case study features Pinpoint , online recruitment software that automates talent attraction for in-house recruitment teams. It showcases their infrastructure set-up with Cloud 66 for Rails and DigitalOcean. Read more: Pinpoint builds recruitment software that helps companies attract the best talent. From Capistrano to Cloud 66 Rails.
If you have any questions please join Cloud 66 Slack Community, where you can solve problems or learn from other awesome developers. Lastly - best of the luck with the migration whatever you decide - may the force be with you! ♥