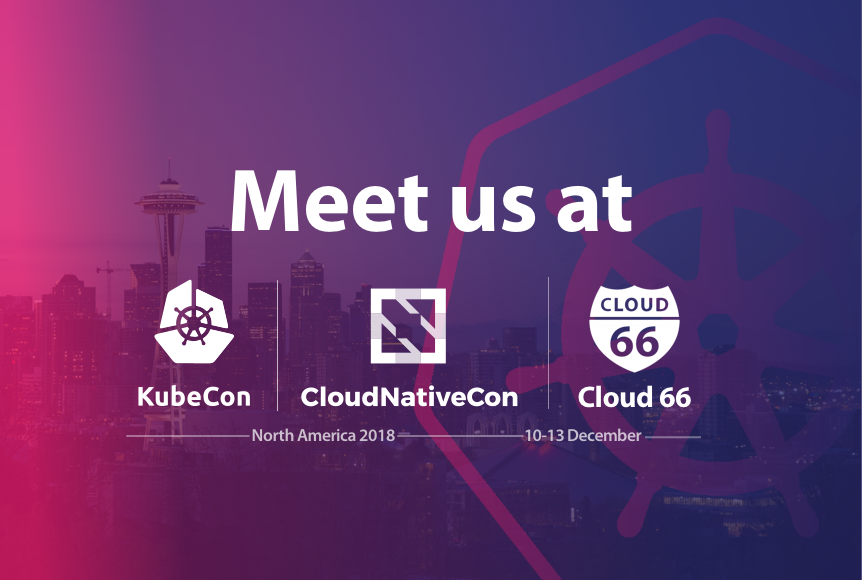 Meet us at KubeCon NA
Our team is proud to be a silver sponsor and exhibitor at KubeCon Seattle. Khash Sajadi, Brent Graham, Dima Lisenko and Kasia Hoffman will be on hand to talk about how we run our own stack—serving almost 4,000 customer apps deployed to numerous clouds as well as bare metal—on Kubernetes, and how we approach critical aspects around the orchestrator such as the deployment pipeline and application Ops.
You can find us at S80 booth.
Ask Cloud 66 about containers:
Cloud 66 allows developers to implement containers in their existing infrastructure via two main products: Cloud 66 Skycap and Cloud 66 Maestro.
Cloud 66 Skycap
Skycap is a Container Deployment Pipeline. You can use Skycap to automatically turn your source code into container (Docker) images, manage your Kubernetes configuration files and deploy your applications to any Kubernetes cluster. Skycap is your best option if you already have Kubernetes Cluster.
New Skycap Features:
Cloud 66 Maestro
Maestro is a full container management service. Maestro helps you build images, deploy and maintain your container infrastructure (and it takes care of... firewalls, servers, load balancers, logs, team support, native database, database replication etc).
New Maestro Features:
Cloud 66 Container OpenSource Projects
KubeCon & CloudNativeCon
KubeCon & CloudNativeCon is the biggest event for the cloud-native and Kubernetes community and has grown exponentially over the last couple of years. This December, Kubecon NA takes place in Seattle, where thousands of Kube-nauts convene for three days to further the education and advancement of cloud-native computing.
Conference Details:
Of course, you're welcome to play with the most comprehensive Container Deployment Pipeline and App Lifecycle Management out there by signing up for Cloud 66 Skycap or Maestro.
♥ Use promo code KubeConSeattle to get $50 worth of Cloud 66 credits. Promo code expires on 01.02.2019.