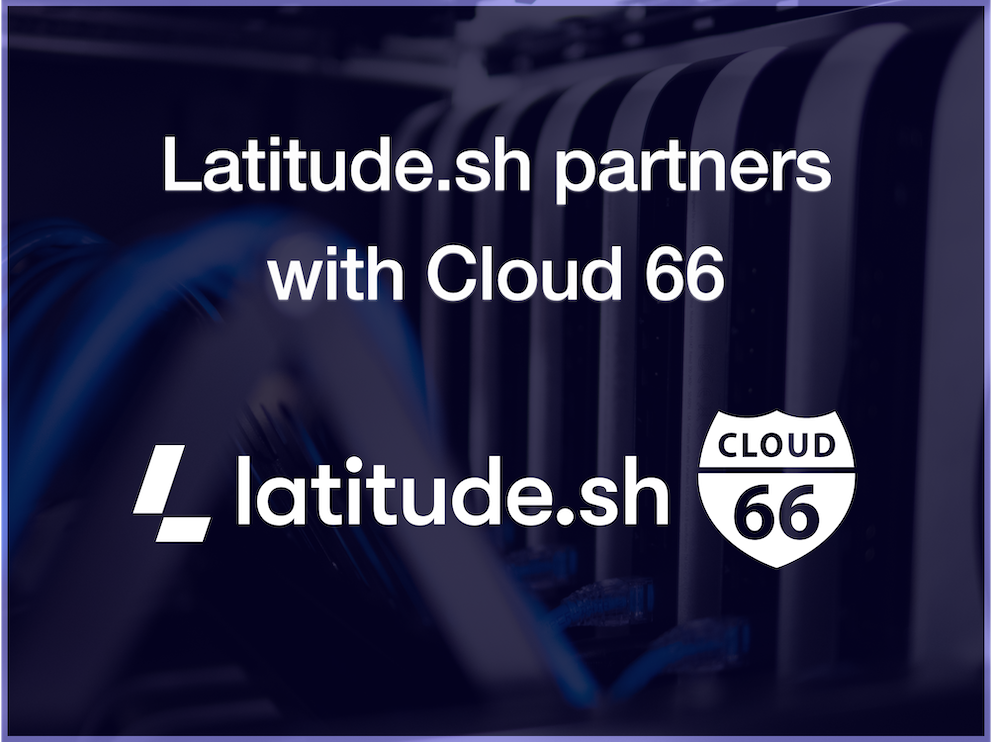 Update: Maxihost is now Latitude.sh.
We are pleased to announce that Cloud 66 is partnering with Latitude.sh, a global bare metal cloud provider built for developers.
Latitude.sh builds a platform that combines the compute power and security of bare metal servers with the automation capabilities of the cloud, allowing developers to deploy Intel and ARM-based dedicated servers in minutes across different locations around the world.
Why has Cloud 66 partnered with Latitude.sh?
One of the major factors is Latitude.sh's global reach and prime data centre locations, from Australia to North and South America. With the new Brazilian General Data Protection (LGDP) act, a vibrant Ruby on Rails community, and our growing customer base in South America, Latitude.sh is a no brainer.
Like Cloud 66, Latitude.sh has a strong focus on developer experience. Everything you need to manage your servers can be done from the UI or API.
We love how Latitude.sh takes a different approach to infrastructure by combining the power of bare metal with the automation capabilities of the cloud. Together with Cloud 66 simplicity, we empower developers and businesses by making the internet faster. Additionally, we are proud to be able to call Latitude.sh a Cloud 66 customer and a partner in the Cloud 66 community.
What does Latitude.sh offer?
Latitude.sh allows developers and DevOps engineers to deploy bare metal instances globally in under 10 minutes.
Bare Metal servers are usually a better option for deploying Kubernetes clusters, video services like streaming, and data processing workloads as it's more cost-effective, provides better security and allows you to extract a lot more performance. With Latitude.sh, developers can easily scale configuration to meet their demands, make changes in just seconds, and adjust the infrastructure to meet their business needs.
Thanks to their API integrations, Latitude.sh makes sure infrastructure adapts quickly to changes in the environment. The reason so many IT teams are switching to bare metal is because it has the power and agility to keep up with fast-moving businesses.
What does Cloud 66 offer?
Cloud 66 helps developers to build, deploy and manage any application on any cloud. We deploy applications 2 million times a day for thousands of developers around the world. You can think of us as your in-house DevOps team or a PaaS (like Heroku) but on your own servers.
Cloud 66 Products:
Cloud 66 for Rails -  enables developers to deploy Ruby on Rails (or any other Rack-based) applications to Latitude.sh. Cloud 66 for Rails offers ease of management and reduces the load on your DevOps resources.
Cloud 66 Maestro - offers a PaaS-like functionality for containerized applications. It builds a Kubernetes cluster on your servers, builds your code into Docker images, takes care of databases, firewalls, and network for your applications on any cloud. It is a perfect option to quickly and easily deploy any application that has a Dockerfile.
How to get started?
To get started you need to open a Cloud 66 account and follow the steps to connect it with your application's Git repository and your Latitude.sh account.
To celebrate our partnership, and to help you get started with Cloud 66 on Latitude.sh, we're offering $100 of free credit on Cloud 66. To claim the perk, sign up for a Cloud 66 account and enter the code: Hello-Maxihost. This promotion will expire in August 2022.  
Additionally, courtesy of Latitude.sh, we've arranged for $100 in free credits exclusive to Cloud 66 users only. To claim it, go to https://credits.maxihost.com, add your Latitude.sh API Key and code Cloud66. Credits will be immediately available on your account. This promotion will expire in February 2022.  
Deploy your application on bare metal cloud with Latitude.sh (AKA Maxihost) and Cloud 66.
FAQ
How do the Latitude.sh and Cloud 66 credits work?
To get this perk, you need to be a new Cloud 66 customer. Sign-up for the account and enter the code Hello-Maxihost in the Cloud 66 dashboard Settings. This perk is valid for 6-months or until the credits are used.
Go to credits.maxihost.com, add your API key, and code Cloud66. This perk is available to new Latitude.sh customers only. Credits don't have an expiration date.
What are Latitude.sh's data centre regions?
The core data centre regions are Sao Paulo, Santiago, Miami, Chicago, New York, Dallas, Los Angeles and Sydney. Latitude.sh also offers custom deployments in all of their data centers and other custom regions. Learn more.
What Cloud 66 product should I use for my application?
For native support of all Ruby on Rails applications, including all Rack frameworks, choose Cloud 66 for Rails. If your Rails application is containerized or you have any other application (any language, any framework) that has a Dockerfile choose Cloud 66 Maestro.
Latitude.sh and Cloud 66 cost?
Cloud 66 doesn't provide servers - that is where Latitude.sh comes in. Latitude.sh offers multiple price plans.Visit Latitude.sh pricing page for more information.
Cloud 66 takes care of the deployments, management and maintenance of your application. We offer 4 weeks for free and we don't require credit card details during the free trial. After that we charge $14.99 per server/ month.