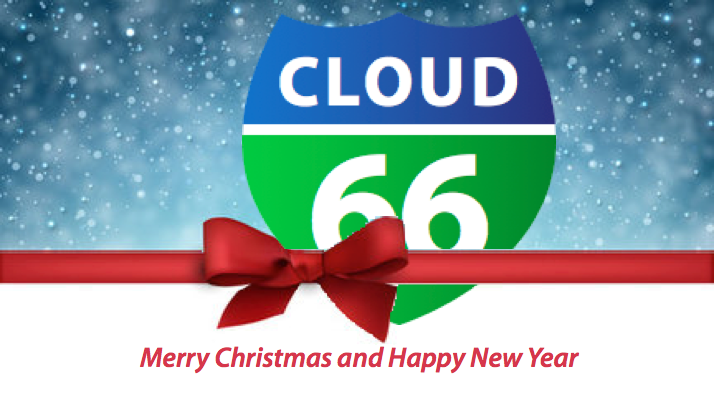 Ho Ho Ho
Wishing you a holiday season that is sparkling with a lot of fun, bursting with joy and cracking with laughter! Merry Christmas and the best wishes for a jolly and prosperous 2016!
The only thing left is to say a massive thank you for being our amazing customer.
Happy Holidays from the Cloud 66 Crew!
Cloud 66 Christmas Schedule
Please note that the office will be closed on the following days:
Thursday 24th, Friday 25th, Saturday 26th of December 2015 and Friday 1st of January 2016.
We will be responding to urgent support tickets and 24x7 premium support customers.
We hope this will not cause any inconvenience to you.
2015 was awesome, onwards to an even better 2016
Another year has passed and oh boy was it busy!
We are very proud to provide services that makes your life easier. And thank you for your feedback and suggestions added to our uservoice. It always helps us to prioritise our releases.
Last year, we rolled out our initial support for containers in production to enable most of the things our Ruby on Rails customers have been enjoying since the beginning of Cloud 66 to everyone else. With our roots firmly in the amazing RoR community we rolled out the first end to end production ready container management as a service to our customers and have been blown away by the amazing apps you've built with it. Keep going!
With easy to use features like LiveLogs, Teams and Organisations, ContainerNet, Failover Groups, Audit and infrastructure inventory, Birdseye, Cloud 66 App Store, Fine-grained Permission Rights there is no better platform to power your container based applications around.
Join our Slack community
We are delighted to host a Cloud 66 Community channel, a place where you can interact with other awesome developers.
Also, we are pleased with our first ever Cloud 66 meetup: an over subscribed event that we hosted in November (we had to change events just to find more room!). We are so grateful for all your positive comments and plan to make it a regular event, hosted not only in London but in more cities next year.
Finally, the Cloud 66 team has doubled in size! This means we have more hands to improve our services and bring new features.
What's in store for 2016?
Let's keep this one a surprise! We have so many new features and improvements planned for 2016 that will delight you for sure! Build and deployment speed improvements are the obvious ones, but there is a lot more to look forward to!