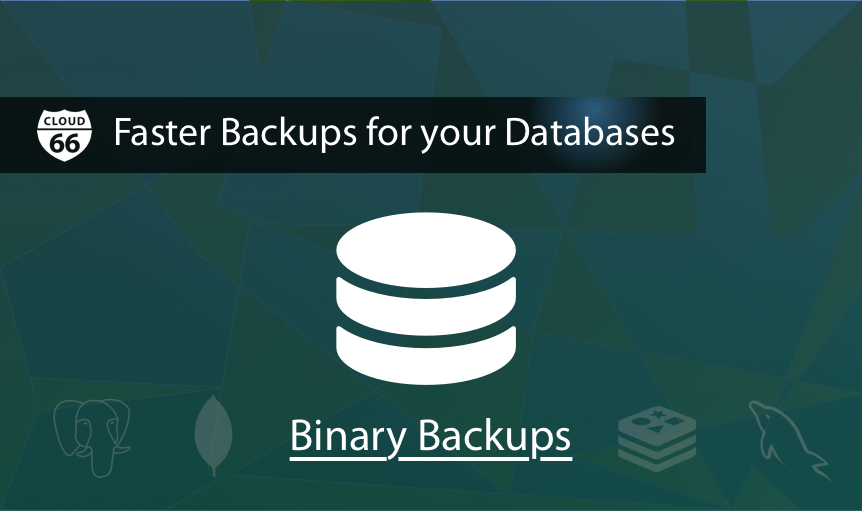 Today we are happy to announce a huge improvement in the way Cloud 66 backups are taken and managed.
As a full stack management the Cloud 66 platform has many features related to server, firewalls and databases that are very popular with our customers.
One of the most popular of these features is our database backups. By providing a seamless backup experience for all of your databases from MySQL and PostgreSQL to Redis and MongoDB, Cloud 66 not only facilitates resilience of your application in the event of a disaster, but also allows you to move your entire stack from one server to another or one data centre or cloud to another one.
Text Backups are Great but...
Until now, Cloud 66 backups were text based. This means your data in the database was extracted as SQL queries (or JSON in case of MongoDB) and dumped into a text file. This method has many advantages: it is human readable and can be restored on different platforms as well as it is portable between different versions of a database server: you can restore a MySQL 5.6 database on a MySQL 5.7 server.
However text backups have downsides too: they are very large and take up a lot of space. They are also very slow to backup and even slower to restore. The restore performance is even worse when for databases with clustered indices.
Enter Binary Backups
Today we are announcing support for Binary Backups for MySQL, PostgreSQL and MongoDB. Binary Backups reduce the backup and restore times by up to 20 times in many cases. They are also much smaller so you won't pay as much for storage.
Given the stated advantages of text backups, we are going to keep both options open for you. If you require human readability, portability between different versions and development environment restore of a remote database, text backups are still a great option to choose. However for most disaster recovery and replication scenarios Binary Backups offer a great option for many of our customers.
We are very excited by how Binary Backups help our customers. Our team put a lot of effort to make big improvements in our backups core framework by replacing the entire backup server agent with a new one to support Binary Backups, auto updates and huge performance improvements and we hope you benefit from this new feature in your amazing apps.
Enjoy!
---
Further reading:
Check out our blog on, Binary Backups for PostgreSQL
---