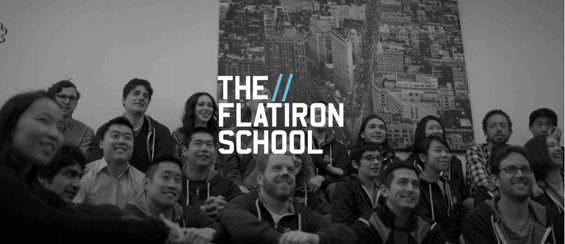 We're very happy to announce our new partnership with Flatiron School, a New York based program that offers full-time, intensive classes (plus pre-work) "designed to turn you into a web developer". We share their belief that programming can be learnt by anyone, and they empower their students with the equivalent skill-set and experience of an entry-level Ruby developer in just 12 weeks. Students don't need any programming experience to attend, all they ask for is a "strong desire to create and a whole lot of grit".
Following the program, they help you get a job placement at one of their partner companies, which range from companies like Artsy to Statuspage.io. One of the aspects that sets Flatiron School apart from similar programs is their focus - they don't have fancy offices and millions of dollars in venture capital. They're also not trying to scale geographically or across curriculums, which allows them to focus on what they do best.
In a similar vein, they intentionally keep a low acceptance rate into their program, which helps them maintain a diverse and passionate group of students. For example, former students have backgrounds as diverse as professional poker players and Major League Baseball scouts to Wall Street traders and lawyers.
Our partnership
Cloud 66 is delighted to offer all Flatiron students free services for 6 months, to help them get their applications up and running in the cloud of their choice as smoothly as possible.
We're happy to see that Flatiron has partnered with DigitalOcean, who are offering a free droplet to every student. The addition of Cloud 66 to this mixmakes it easy for students to quickly get to grips with their server management, in addition to the goodness provided by DigitalOcean.It's exciting to be working with Flatiron School and we look forward to seeing the talent that emerges from their program.