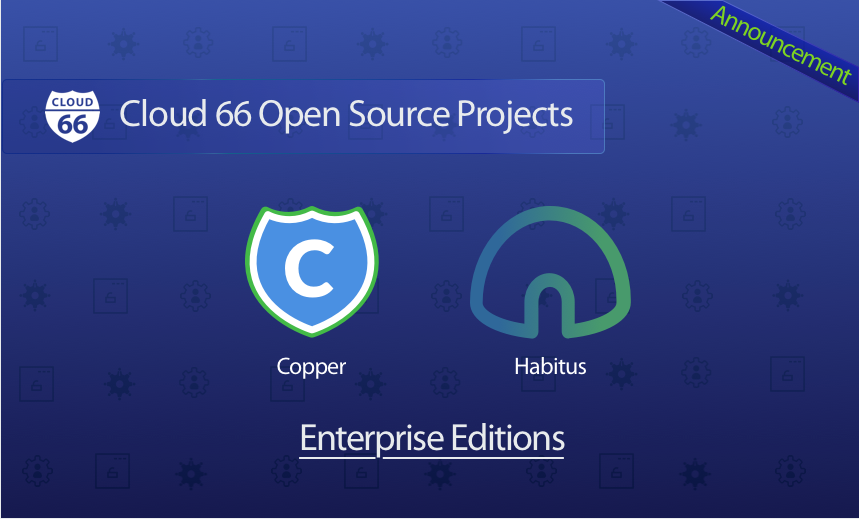 The release of Copper, our open source configuration validator for Kubernetes, happened around CloudExpo and KubeCon Europe, and was extremely well received. Copper brought the total of Cloud 66 open source products to three:
Copper: an ops validator for configuration files
Habitus: a secure build flow tool for Docker containers
Starter: a Dockerfile and Yaml file generator
We've built all our tools ourselves, to solve operational challenges we encountered through our four-year journey with containers and Kubernetes. We couldn't be more excited about the possibilities these great open products enable for our customers that are tackling similar problems now.
Recently, we've been getting an increasing number of enquiries specifically from users of our open source product, to provide them with support, more advanced features, and visibility of our roadmap.
Today we are excited to announce general availability of Enterprise Editions of Habitus and Copper.**
Around the globe, companies large and small use our open source products together with our commercial products—Skycap and Maestro—to build, deploy, maintain and manage thousands of container-based applications and infrastructure on tens of thousands of servers.
Here are some of the use cases we've come across:
A team of devs was looking to augment its CI with capabilities like multi-stepped builds across a shared cluster, a flexible/modular workflow, and an enforcement of build step dependencies
A dev manager wanted to secure the build process by preventing IP (secrets) leakage into unencrypted repos, interfacing with Hashicorp Vault and cloud KMS, and by minimizing image size and vulnerability
An ops manager searched for a self-service way to make sure that the dev team only ship configuration files that specified ports or port ranges, and stop the practice of tagging images with "latest"
An ops team was looking for a mechanism for Kubernetes-oriented resource discovery that wasn't as complex as Zookeeper
An ops security team wanted to have a secure, centralized way to store and share configuration for numerous instances of the same applications
We will continue to build, improve and advance the underlying open source projects as free and open-core parts of the powerful and comprehensive container deployment pipeline our customers rely on for production. We will do this while providing users of CI/CD projects such as Jenkins, Teamcity and others integration, onboarding and production support; product roadmap sharing and influence; and inclusion of more advanced features going forward.
You can find out more about Cloud 66's Open Source products, and we look forward to demonstrating how these powerful capabilities could help you accelerate your Kubernetes ops journey.
---
Do you have any questions about our open source projects? Get in touch!