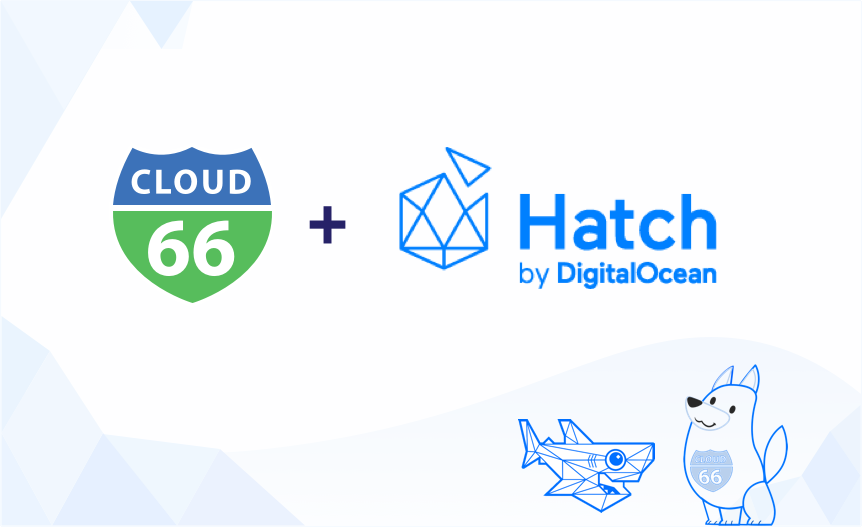 We are very excited to announce our partnership with DigitalOcean's Hatch program! We love the idea of building the community that helps developers to create, launch and scale their startups.
What is Hatch?
Hatch is a global startup program designed by DigitalOcean to help grow the next generation of businesses. This includes a range of benefits to get you started, e.g. 12 months of DigitalOcean credit to easily scale your infrastructure, training, priority support, access to the great community and members perks, e.g. free Cloud 66 credits to easily deploy any application to DigitalOcean, etc.
Among Hatch partners are Techstars, 500 Startups, Y Combinator, Boost VC, SOSV and Andreessen Horowitz.
Why we're joining Hatch
Like DigitalOcean we got started as part of the Techstars accelerator program, which gives us firsthand understanding of the challenges in launching and scaling a company. Our partnership with Hatch allows us to support and show love to developers and the startup community. Access to free credits and other perks not only allow founders to keep their costs down, but also allows them to focus on building their products instead of worrying about their infrastructure.  Not to mention that it gives members the opportunity to connect with other startups, accelerators and investors in the community.
What we offer to the Hatch community
By joining the Hatch program we received a lot of support from DigitalOcean and the Hatch members and we would like to give something back.
Cloud 66 Perk
As Cloud 66 products complement DigitalOcean servers we are offering $500 in Cloud 66 credits to Hatch community members for free. These credits expire six months from the initial sign-up date. This perk applies to Hatch members and new Cloud 66 customers only.
Our Products
Cloud 66 is like your in-house DevOps team. We enable developers to build, deploy and manage any application, on any cloud or server. Our products:
Cloud 66 for Rails -  makes deployment of your Rails applications to any cloud easy. We deploy Rails apps 2 million times a day for thousands of developers around the world.
Cloud 66 Maestro - is a full container management service. It builds a Kubernetes cluster on your servers, builds your code into Docker images, takes care of databases, firewalls and network for your applications on any cloud.
Cloud 66 Skycap - is a Container Deployment Pipeline. You can use Skycap to automatically turn your source code into container (Docker) images, manage your Kubernetes configuration files and deploy your applications to any existing Kubernetes cluster.
FAQ
How can I qualify for this perk?
You need to be part of DigitalOcean Hatch program.
You need to be a new Cloud 66 customer.
How do the Hatch and Cloud 66 credits work?
DigitalOcean: You will be given a fixed amount of monthly credits to be used over the 1-year program.
Cloud66: You will be given a fixed amount of credit to be used over a 6-month period.
What if I have already received credits for my startup? This program is for new startups that have not used prior credits with Cloud 66 or DigitalOcean.
How can I apply for this perk? To claim this perk, sign up for a new Cloud 66 account and then email us at marketing@cloud66.com from the address you used to sign up the account with the mention of DigitalOcean Hatch Perk. We will verify your request with Hatch team and apply the credits to your account.
If you are not a member of Hatch program yet, fill in the application form.