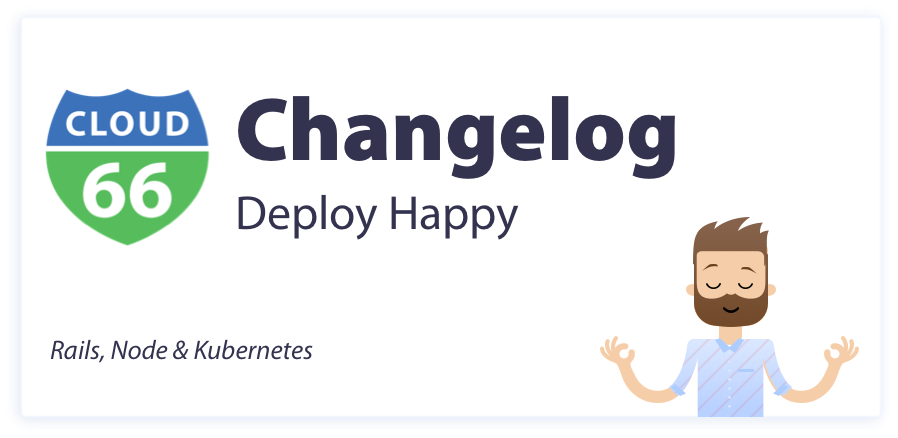 Welcome to the Cloud 66 Changelog. These are the changes that have gone out this week:
Failover Group and SSL
Until now, if you switched to a backup stack via Failover Groups (The defacto mechanism to handle failover) an unfortunate side-affect was that the SSL certificate associated with your primary stack needed to be regenerated on the backup stack. This is because while the backup stack was NOT listening on the primary external DNS interface, SSL certificates couldn't be automatically generated there.
Happily, we have now resolved this issue! When you switch to your other stack now, we will automatically transfer your SSL certificate over. This will reduce the time to switch nicely. Oh, and we've given you a nice interface to see the change happening too!
Note: There are some exclusions where this doesn't apply - so head on over and read more about this feature in our help documentation.
New Ruby Versions
For Rails/Rack users, the new Ruby versions addressing the recent heap exposure vulnerability and unsafe object creation vulnerability are all available. As a general policy, we will try and make security vulnerability versions available ASAP (in this case they were out within 3 hours of the announcement). Update now!
Improved UI Components
Astute users might notice that we've started rolling out some quality of life changes in our UI. The latest to go out is the inclusion of a "drawer" component. You can see this in action when you add a new cloud platform. See it in action!
Dashboard Loading Speedup
We've made some big changes under the hood, and now, users with larger stack counts will notice that their dashboard load is significantly faster. We've seen speed improvements of up to 60%! We're constantly trying to improve and have a bunch of additional quality of life improvements coming in the pipeline. Don't hesitate to reach out if you would like us to look into something!
Enroll in Cloud 66 Beta Program
If you are part of Cloud 66 Beta Program, you will get access to new features before everyone else. Enrolling into our Beta Program is now even easier: simply head to your Account page and click on the checkbox to enroll! You will start seeing new features and improvements on your primary account soon after!