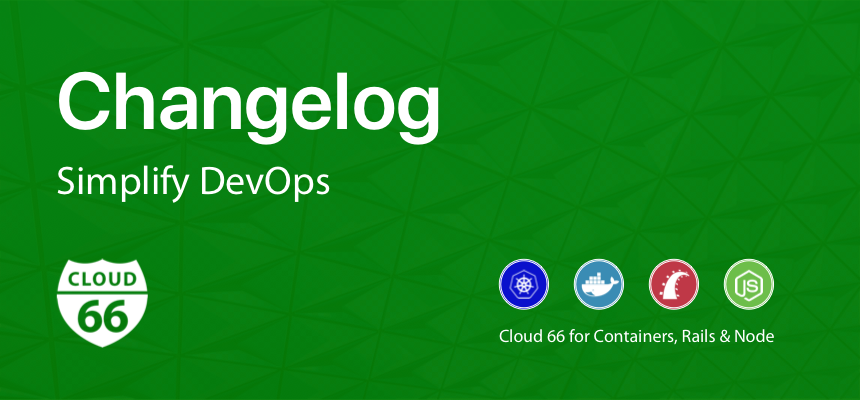 Welcome to the Cloud 66 Changelog. Please take a quick look at the latest changes that have gone out this week!
More flexibility for Docker stacks
You can now configure Docker container options in Container CSv1 stacks. The following options are now available to you via service.yml for each individual service:
dns:
    servers: ['1.2.3.4', '8.7.6.5'] # --dns parameter
    options: ['opt1', 'opt2'] # --dns-opt parameter
    search: ['foo.bar', 'cloud66.local'] # --dns-search parameter
docker_opts: 'options' # any docker container options for example --net=host

This opens up CSv1 stacks to great flexibility on how your service containers are started.
---
MEET US AT
CloudFest, 12-14 March 2018 in Rust, Germany
We will be attending well-known hosting show CloudFest. Come and meet us to chat about Kubernetes, Container Delivery Pipelines and more.
CloudExpo, 21-22 March 2018 in London
This year we are an exhibitor at the DevOps space in CloudExpo Europe. Come talk to us about Kubernetes, Container Delivery Pipelines and more—Stand number C1662.
RailsConf, 17-19 April 2018 in Pittsburgh
We are a proud sponsor of RailsConf 2018, the world's largest and longest-running gathering of Ruby on Rails enthusiasts, practitioners and companies. We hope to see you there! Stand number 715.
KubeCon EU, 2-4 May 2018 in Copenhagen
You can also meet us at KubeCon & CloudNativeCon Europe. Talk to us about our experience in running Cloud 66 on containers and Kubernetes, as well as how we use our own products to manage our own stack—including Skycap, our Container Delivery Pipeline. Stand number TBA.
---
CLOUD 66 SLACK COMMUNITY:
Get involved by taking part in our Cloud 66 Slack Community.
You can also access it via Cloud 66 dashboard.