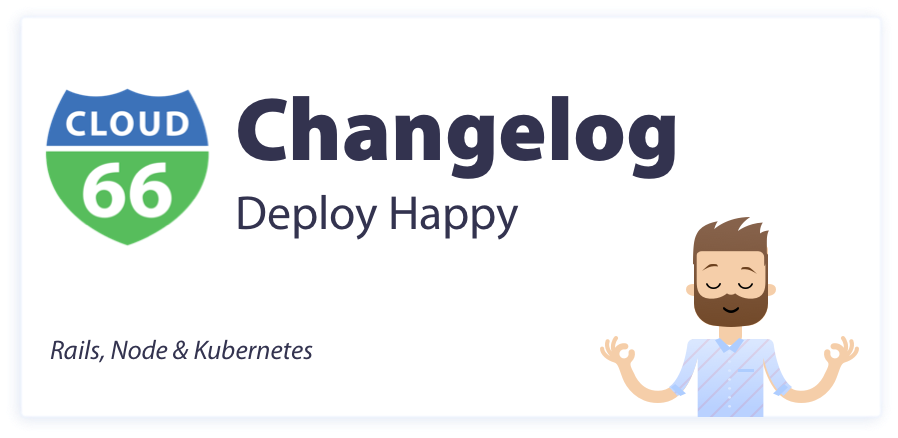 Welcome to the Cloud 66 Changelog. Please take a quick look at the latest changes that have gone out this week!
MySQL 8.0 Support
Good news! We now support MySQL 8.0 by default on new installations of MySQL! Note that this includes support for Percona as a database engine too. If you want to use Percona, see the manifest documentation for how to configure Percona as your DB engine.
MySQL 8.0 brings a number of performance enhancements over 5.7, and is certainly a recommended upgrade if you're on the fence! Go forth and query!
Introducing Konfig
We are very excited to introduce Konfig, a new open source project created and maintained by Cloud 66.
Konfig is a Kubernetes friendly Rails configuration gem. It helps to simplify and standardize the way you can retrieve multiple secrets and configurations from secure storage and makes them available to your applications without requiring any application level changes_._ Read more.
New Packet Servers/Regions
Effective immediately we've updated our Packet servers and regions. For those of you out there looking for some bare metal compute power, come and take a look!
MEET US AT
KubeCon North America, 18-21 November 2019 in San Diego
Meet us at KubeCon & CloudNativeCon North America. Hear about our experience in running Cloud 66 on containers and Kubernetes, as well as how we use our own products to manage our own stack—including Skycap, our Container Deployment Pipeline.
All Day DevOps, 6 November 2019, Online
All Day DevOps is a 24-hour event that delivers 125+ sessions in 38 time zones. Talks include Cloud Native Infra and Monitoring, DevSecOps and Automated Security, CI/CD, Site Reliability Engineering, and Cultural Transformation.
Cloud 66 Slack Community
Get involved by taking part in our Cloud 66 Slack Community.
You can also access it via your Cloud 66 dashboard.