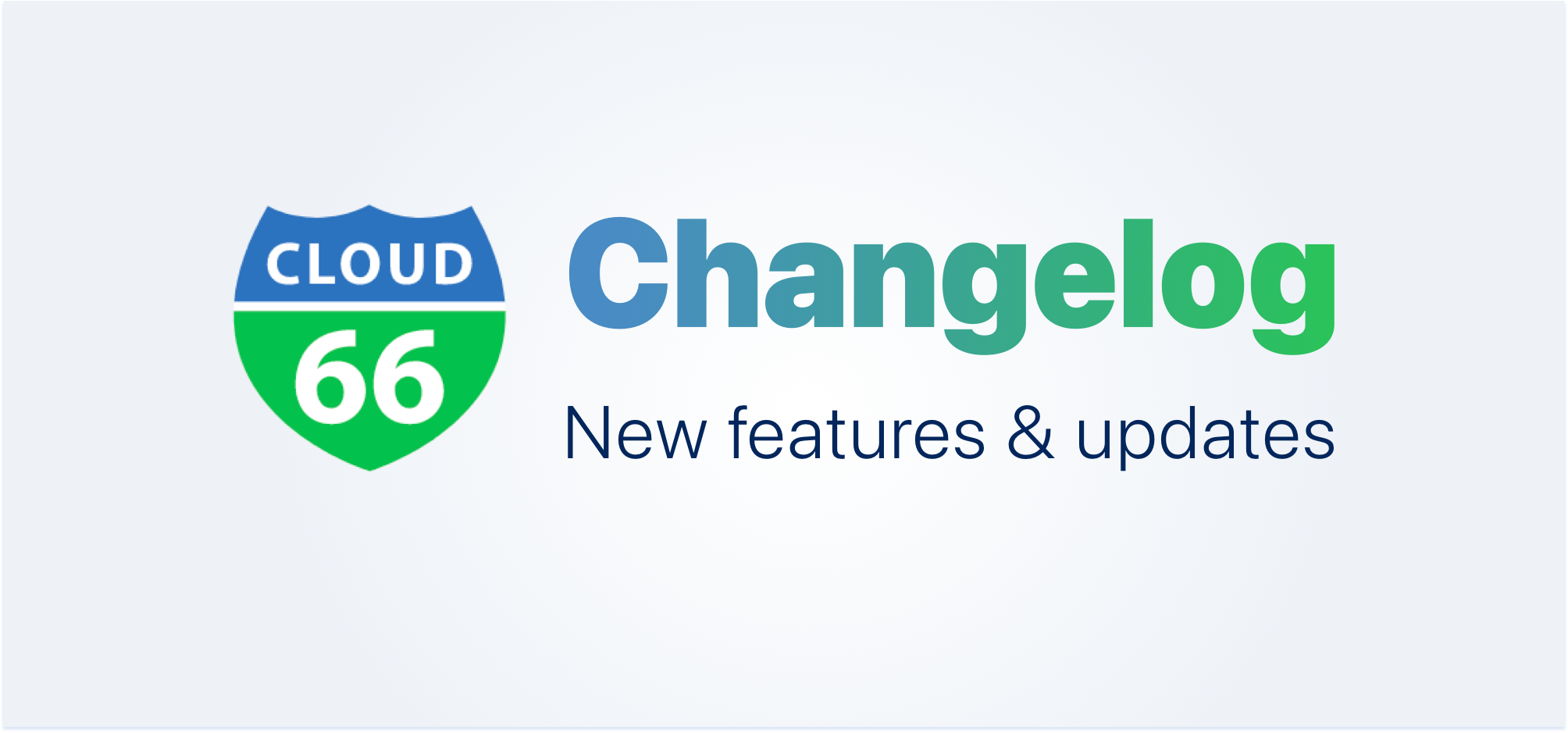 Welcome to the Cloud 66 Changelog. These are the changes that have gone out this month:
Announcing Dashboard Application Groups
General New
You can now group your applications together on the dashboard. Application Groups allow you to deploy collections of applications simultaneously! Your applications can be grouped either manually, or by name, tags, environment or branch. Applications are not limited to a single group. For more information see our Application Groups help pages.
Fast Scaling Maestro Services
Maestro
We are happy to announce an improvement to the way Maestro services are edited (this includes scaling up/down of service counts). Now, you can change one (or more) Maestro services via the UI and apply those changes independently of a deployment. This means that scaling up or down no longer restarts all pods, and only adds or removes pods as required - a big improvement!
When you make scaling changes to your services, don't forget to apply them by clicking on the Apply button at the top of the server list.
Please note that deploying an application no longer applies your scaling changes at the same time.
New Dashboard Table View
General New
We are pleased to introduce a new table-format dashboard view. For users with large numbers of applications, this is the first step in making the dashboard more scannable/usable. Additionally, using this new view, you can now start deployment of multiple applications at once! Please give it a try and let us know your feedback.
Application Protection
General New
You can now protect your applications from actions that may affect their stability & availability. Application Protection disables deployments, scaling down of servers, and application deletion. You can enable and disable this setting via your application's settings page!
Disk Space inode Usage
General
Effective immediately, disk space reporting (and disk alerts) now includes tracking of inode usage! To see your disk space usage, navigate to your server detail page. See our help documentation for more information.
Google Cloud Server Service Accounts
General
You can now use a manifest declaration to bind a service account to your Google Cloud server instances when they are created. For more information, and manifest examples, please see our help documentation.
Adding Screenshots to Support Tickets
General
You can now attach screenshots (or other attachments) to new support tickets, to help explain the issue you're experiencing. This quality of life improvement means that you can provide more information when a ticket is created, meaning faster ticket turnaround times!
Legal & Compliance Docs
General New
You can now find commonly-requested legal and compliance documents inside the Cloud 66 dashboard. Simply go to 'Accounts Settings' and open the 'Account' tab to find the following documents: W9, GDPR, CCPA Data Processing Addendum.